Arkansas Football: Bret Bielema Tells Fans to 'Knock the Sh*t' Out of Spies
August 18th, 2014| by Lost Lettermen
Arkansas head coach Bret Bielema had a word or two for any spies in attendance at the Razorbacks' scrimmage on Saturday.
While going over the day's workout schedule with the 3,500 fans in attendance at Reynolds Razorback Stadium, Bielema told the crowd, "If you see someone videotaping, tell them that ain't right. Especially if they're wearing an Auburn shirt, knock the s*** out of them." Bielema has a running feud going with Auburn head coach Gus Malzahn and the two programs square off in the season opener for each on August 30th.
It's a dog-eat-dog world in the SEC and the cheers that followed Bielema's orders indicate just how serious fans took his threat.
As for who would be spying on a team that hasn't won an SEC game since October 2012, that remains the bigger story.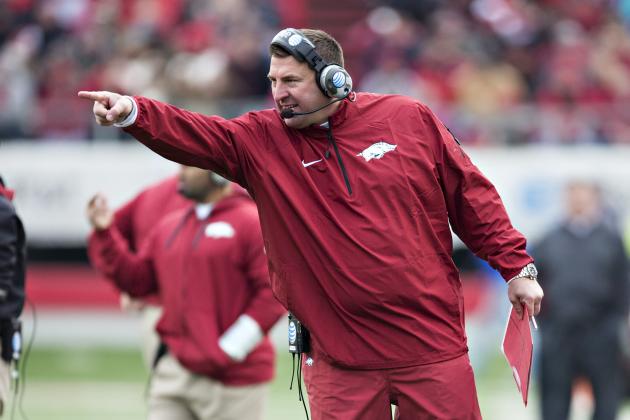 Comments
comments