Can Hoke Match Meyer? 2013 Will Tell Us
July 22nd, 2013| by Lost Lettermen
By Jim Weber
Michigan's head football coach has always been judged based on their success compared to their counterpart at Ohio State.
The Ohio State game is what made Bo Schembechler a legend, kept Gary Moeller in Ann Arbor for so long, induced Lloyd Carr's "retirement" and led Rich Rodriguez to get run out of town.
When Brady Hoke was hired by Michigan, he had to live up to the standard set by Jim Tressel. Now Hoke finds himself face-to-face with Urban Meyer, the best college football coach today not named Nick Saban
This will be a defining year to find out if Hoke is up to the momentous task.
So far, Hoke has cleaned up the mess RichRod left behind and proven to be an ace recruiter, true "Michigan Man," great defensive mind and leader of men. His first season with the Wolverines was a charmed one, highlighted by a miracle win over Notre Dame, catching Ohio State in chaos and winning a wacky Sugar Bowl in which plays like this went in Michigan's favor.
But some of the luster came off Hoke last season after five losses that included sloppy defeats to Notre Dame and Nebraska, an inexplicable offensive meltdown in the second half at Ohio State that had the coaching staff under fire and a last-second loss to South Carolina in the Outback Bowl (let's not even speak of the Alabama beatdown). Even Hoke himself called it a "sh*tty" season.
The honeymoon is now over in Ann Arbor and all that's left are the ridiculously high expectations that come with coaching there. Those were ratcheted up another level because of Meyer's undefeated first season in Columbus and a Buckeyes team that will enter the 2013 season ranked No. 2 in the nation.
Can Hoke match Meyer this fall? There's no reason he can't.
After three recruiting classes of his own, these are now Hoke's players instead of RichRod's. Al Borges will finally get to run his West Coast offense instead of the spread with Devin Gardner at quarterback instead of Denard Robinson. Projected Top 10 NFL draft pick Taylor Lewan turned down millions to anchor the offensive line at left tackle. The defense should be among the best in the country. And the Wolverines' schedule is very favorable, with Michigan's three toughest games – Notre Dame, Nebraska and Ohio State – all at home.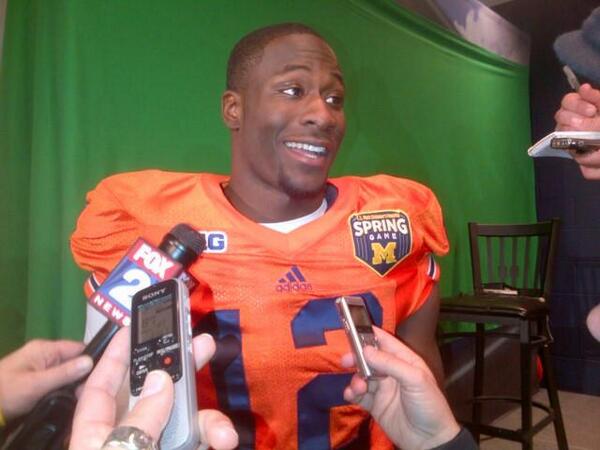 It appears a near-certainty that Ohio State will start the season 11-0 with a cakewalk schedule, setting up the potential for the biggest Ohio State-Michigan game since the "Game of the Century" in 2006. If Hoke is going to live up to the standard that Meyer has set, Michigan needs to enter "The Game" with two losses at most and beat OSU on its home turf.
It would put Michigan on the same level as Ohio State for the first time since Tressel was hired in 2001 and set up the potential for a Woody Hayes vs. Bo Schembechler-type rivalry between Meyer and Hoke.
If Hoke loses? He'll be staring at a likely 0-3 record vs. Meyer, with Michigan headed back to Columbus in 2014 – where UM hasn't won since 2000 – to play another loaded team led by quarterback Braxton Miller (there's actually a chance Michigan could lose twice to Ohio State this fall, once in the regular season and once in the Big Ten title game). A loss would put Michigan dangerously close to becoming Meyer's new Georgia – a Top 25 team that lives in the shadow of its top rival and is never good enough for its fan base.
At most programs, resurrecting a team that was in shambles when they arrived would be enough. Hoke did that and is now already facing an even more daunting task of going Mano-a-Mano with one of the best coaches in college football history.
It's an enormous burden, but as Hoke said it best himself: "This is Michigan, for God's sakes."
Jim Weber is the founder of Lost Lettermen. You can follow him on Twitter at @JimMWeber and @LostLettermen.
Comments
comments