Can Kingsbury Replicate Fitzgerald's Path?
July 25th, 2013| by Lost Lettermen
By Chris Mahr
Kliff Kingsbury has been one of the dominant 2013 preseason storylines ever since his return to Texas Tech as the new head football coach. It's well-deserved excitement, too. Here's a young, good-looking former Red Raider great who enjoyed a meteoric rise through the college coaching ranks before being tabbed to usher in a new era at his alma mater.
There's no telling how it'll all turn out for the 33-year-old Kingsbury. There is, however, an ideal for Kingsbury to aspire to that few people have talked about: The standard set by Northwestern head coach (and former Wildcats star LB) Pat Fitzgerald, whose own playing and coaching career is eerily similar to Kingsbury's.
Just as Kingsbury ushered in a new era for Texas Tech football in the late 1990s and early 2000s, Fitzgerald helped transform Northwestern from a historic laughingstock into a perennially tough out in the Big Ten during the mid-1990s. In fact, Fitzgerald's college career in many ways exceeded that of Kingsbury's.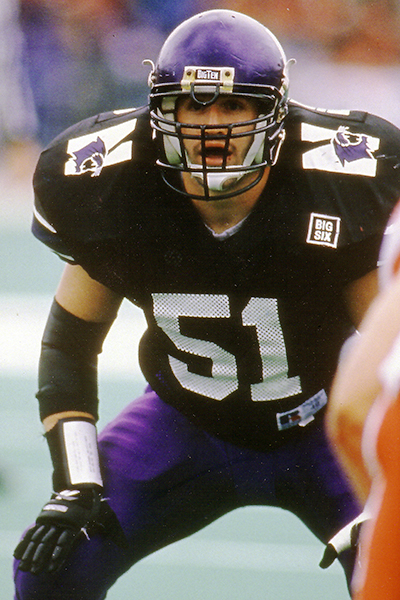 Whereas the ex-Red Raider star QB had to "settle" for a host of school and NCAA passing records and 2002 Big 12 Offensive Player of the Year honors, Fitzgerald was twice named a First Team All-American, Big Ten Defensive Player of the Year and recipient of the Bronco Nagurski Trophy and Chuck Bednarik Award. He was a star on Northwestern's 1996 Rose Bowl team. He's already a College Football Hall of Famer, having been inducted back in 2008.
Neither player had pro careers to write home about, with Kingsbury spending five seasons (2003–2007) bouncing around the NFL, NFL Europe and the CFL. Fitzgerald's tenure in pro football was even shorter, lasting just a season (1997) with the Dallas Cowboys. Almost the moment that their playing days were done, both realized that coaching was their calling.
Kingsbury's rise as an offensive guru while working under Kevin Sumlin — first at Houston and then at Texas A&M, with Johnny Manziel becoming his star pupil at the latter— is well-documented by this point. Fitzgerald's is much less so, but it's similarly impressive.
At 23, an age when most aspiring coaches are toiling away as graduate assistants, Fitzgerald was coaching linebackers at Maryland. Similar gigs at Colorado, Idaho and Northwestern followed. Upon the untimely passing of Wildcats head coach Randy Walker just two months before the 2006 season opener, Fitzgerald took over in Evanston at the tender age of 31.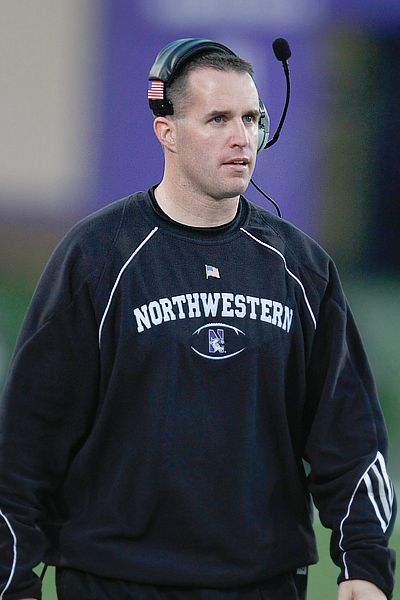 This is the point at which Kingsbury currently finds himself: A young, first-time head coach with several years of major college football coaching experience under his belt returning to his alma mater — one that's often lost in the shadows of conference rivals who boast much more tradition and are much more nationally known.
If Kingsbury's tenure in Lubbock proceeds along the same lines as Fitzgerald's in Evanston, he'll take it in a heartbeat.
Fitzgerald's 50–39 record in seven seasons at the Wildcats' helm isn't awe-inspiring, yet those 50 victories already make him the all-time winningest coach in program history at the age of 38. Last year, he led Northwestern to its first 10-win season since that '96 Rose Bowl squad and its first bowl win since 1949. They have earned bowl bids in each of the last five years, during which time they have upset a host of Top 20 teams both at home and on the road. He's made Northwestern football exciting.
Aside from victories, excitement is first and foremost on the list of what Kingsbury wants to generate at Texas Tech. It's been lacking in Lubbock ever since Kingsbury's mentor, Mike Leach, was fired during the 2009 season. It's now up to Kingsbury to bring it back.
He's got the experience. He's already brought the excitement with the return of the "Air Raid" offense and rallying the Tech fanbase. Now Kingsbury is tasked with getting the program back to where it was when he was a player – which few people expect him to fail at.
Don't be surprised if, from his offices in Evanston, Fitzgerald is watching this storyline play out with a strange sense of déjà vu.
Chris Mahr is the managing editor of Lost Lettermen. His column appears Tuesdays and Thursdays. You can follow him on Twitter at @CMahrtian.
Comments
comments