Can USC Avoid Trap Game Loss This Fall?
July 2nd, 2012| by Lost Lettermen
By Jim Weber
It's not even July 4th and people are already seemingly penciling USC into the national title game.
That's because, in little over a month last fall, the Trojans defeated Oregon in Autzen Stadium, blew the doors off rival UCLA and got news than star quarterback Matt Barkley would shockingly return for his senior season.
Since then, the hype has slowly spun out of control as the press has already handed Barkley the Heisman while Bovada currently has USC listed as 3/1 odds to win it all and the OC Register's 10 reasons why the Trojans will clutch the crystal ball include, "Because Notre Dame coach Brian Kelly hasn't been the second coming of Knute Rockne." Any more brain busters?
The schedule is certainly favorable with Oregon, Cal and Notre Dame at home, while Stanford's rebuilds almost the entire offense and the Ducks turn the offense over from experienced veteran QB Darron Thomas to freshman Marcus Mariota.
But USC a lock to make the national title game? As Lee Corso likes to say: Not so fast, my friend.
There are still concerns for the Trojans: Will Robert Woods' ankle hold up through the season? Will the atrocious secondary that finished 102nd in the country improve? Will RB Curtis McNeal (5-foot-7) be able to carry the load all year at "Tailback U"? And will the Trojans be able to beat Oregon twice, which will likely be required in the Pac-12 Championship Game for USC to take their talents to South Beach for the national title game.
But what concerns me the most about the Trojans is their tendency to play down to their competition in trap games which, in many instances, has cost them a chance to play for the national title.
There was the choke job against UCLA in 2006, the one-point loss at home to 41-point underdog Stanford in 2007, a loss to Oregon State in '08 just one week after pummeling Ohio State in the L.A. Coliseum, the '09 loss to a Washington team coming off an 0-12 season a loss at home to the same Huskies two years ago.
I'll admit that I place most of the blame on those losses to former head coach Pete Carroll, who seemed to lay off the gas in lesser games and didn't have his players focused week-in and week-out.
But last season started out the same way with a near-loss to ghastly Minnesota and a blowout defeat to Arizona State, who finished the season with a losing record. Yes, the Trojans got their act together with a win in Eugene and three blowout victories to surround it, but USC's history would make me very nervous as a Trojan fan.
No, I don't see them losing to Stanford, Oregon, Notre Dame or UCLA this fall – the four contests that will get the most national attention. I don't even see them losing in the Pac-12 Championship Game, although it would be very difficult to beat Oregon twice in the same season.
If I'm a USC fan, I circle three road contests on my calendar and put red flags next to them: at Utah (Oct. 4), at Washington (Oct. 13) and at Arizona (Oct. 27) – with different reasons for each. (By the way, let me point out how lucky USC is to avoid Washington State and Mike Leach, whose passing attack would have really tested USC's secondary).
The Utes had a losing Pac-12 record year but not only were a field goal away from a victory in the Coliseum, a Thursday night game at Rice-Eccles Stadium has "USC upset" written all over it. Will USC be overlooking the Utes for a game against Washington the next week?
As for Washington, the Huskies might start the season in the Top 25 but this will probably be considered another trap game after a loss by UW to LSU and possibly Stanford. Plus, USC beat the tar out of Washington last season, 40-17. But Keith Price channeled his inner Robert Griffin III to end last season and Steve Sarkisian has shown in the past he has USC's number. If the Trojans beat Utah, will they think they can put things on cruise control for the second away game in as many weeks?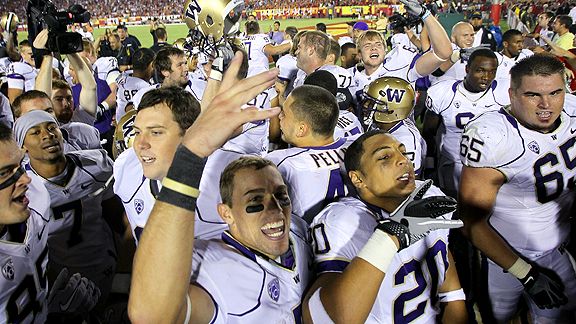 On paper, Arizona has no chance at beating USC after going 4-8 last year and axing Mike Stoops. But Rich Rodriguez is an offensive genius who will be gunning all season for a landmark victory and the Trojans were caught sleeping on their trip to the desert last season to play the Sun Devils.
USC will likely enter all three of those contests as double-digit favorites and should win each one handily if they play up to their potential. But something tells me one of these trap games will end up being a Trojan Horse that undoes an undefeated USC season once more.
Jim Weber is the founder of LostLettermen.com. His column appears Mondays and Wednesdays.
Comments
comments