Celebrating Marshall Henderson's Villainy
January 29th, 2013| by Lost Lettermen
By Chris Mahr
When you watch Marshall Henderson play for the first time, the first word that comes to mind is "unhinged."
His 3-point field goal percentage is under 36%, but that doesn't stop him from attempting nearly 11 of them per game (more than three quarters of his field goal attempts come from behind the arc). He's a beanpole at 6-foot-2 and 175 pounds but throws his body around with wild abandon on both sides of the court.
Yet even though the junior from Hurst, TX, is averaging over 19 PPG for Ole Miss and a bona fide SEC Player of the Year candidate, Henderson has become one of this year's must-see players because he delights in playing the basketball equivalent of a wrestling heel. And it is working wonders for a 16th-ranked Rebels team (17–2) intent on ending a 10-year NCAA tournament drought.
Any college hoops fan who hadn't heard of him before couldn't escape his presence on Saturday. On arguably the most chaotic day for Top 25 teams in recent memory, it was Henderson who made the biggest headlines with his brazen taunting of the Auburn student section in a 63–61 win.
Regardless of how opponents or opposing fans respond to his non-stop chirping, he's not going to change how he acts on the court. Willfully playing the part of the villain is too much of who he is.
Henderson started his college career at Utah. He was a gunner then as well — averaging 6.5 3-point attempts per game — and had that same edge. As soon as his Auburn GIF went viral on Saturday, a Redditor posted another GIF of Henderson, being ejected from a Utes game for a flagrant punch.
That hothead reputation has been with him ever since. He reportedly left Utah for disciplinary issues, transferring to Texas Tech. During his brief tenure in Lubbock (he never played a game for the Red Raiders), he was arrested on felony drug charges (which were later dropped).
But all this time, he kept playing. Henderson eventually wound up at South Plains College in Levelland, TX, who he led to a 36–0 record and the junior college national championship while earning National Junior College Player of the Year honors.
Think of him as a more extreme, basketball equivalent of Johnny Manziel. There's a cockiness to him that surely rubs many people the wrong way. There's no denying he loves living hard (there he was pounding beers at an Ole Miss frat party following the Auburn game).
But he plays even harder – like his 35-foot buzzer-beater that sent Ole Miss' road game at Vanderbilt into overtime (a game that the Rebels would eventually win) are a product of his will just as much as they're a product of his talent.
And that in-your-face attitude is contagious. While Henderson's Ole Miss teammates won't take it quite to the extreme that Henderson does, they have taken on that same "never back down" ethos. Hence the Rebels are atop a conference that many predicted would be the domain of Florida, Missouri and Kentucky.
It's not just Rebels players that Henderson's antics are breathing life into. Take a look at Andy Kennedy toward the end of that aforementioned game at Vanderbilt.
That fire has been there in previous years in which Ole Miss always came up just short of the Big Dance. Perhaps that intensity stems from Kennedy's hot seat. But part of me would like to think that Henderson's heart-on-his-sleeve mentality has been partially adopted by his coach.
In following the lead of their "unhinged" star, a previously underachieving Ole Miss squad is playing like a team that's "unchained."
Chris Mahr is the managing editor of Lost Lettermen. His column appears Tuesdays and Thursdays. You can follow him on Twitter at @CMahrtian.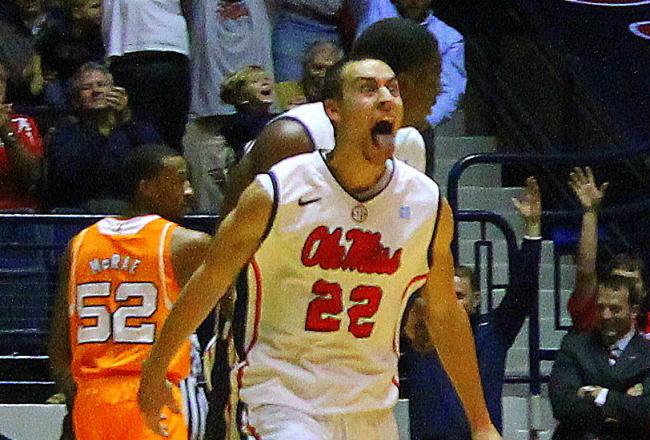 Comments
comments