College Basketball's Most Interesting Tattoos
February 23rd, 2012| by Lost Lettermen
Last summer, we examined some college football tattoos that dropped jaws. And those were the guys covered by padding, uniforms and helmets. Now we take a look at some of the best body ink from the college hoops scene, which has players whose tattoo choices are on display nightly.
.
Robert Sacre (Gonzaga)
Yes, that's a massive French fleur-de-lis on the arm of Robert Sacre as both his parents starred athletically at LSU. It's unclear if it also pays tribute to the New Orleans Saints, who use the fleur-de-lis as their logo. It was Sacre's first tattoo at the age of 18 and now his body includes ink of a lion, Chinese symbols and – wait for it – Mike Tyson and rapper DMX. Let's hope Tyson's face tattoo isn't next.
.
Levan Shengelia (Rhode Island)
Rhode Island's sophomore forward from the country of Georgia may be averaging just 2.3 points and 1.7 rebounds, but that doesn't stop him from intimidating opponents in the Atlantic 10. Just look at that tattoo that engulfs his right arm – starting with a black swirl on his shoulder and cascading all the way to his wrist.
Bruce Thorson/US Presswire
.
Royce White (Iowa State)
White, a sophomore forward, has nearly averaged a double-double this season at Iowa State. But his success in Ames, IA, hasn't stopped the Minneapolis, MN, native from being proud of his hometown. White has a Minnesota Twins logo tattooed on his left arm next to a giant microphone. White was born in 1991, when the Twins won a classic seven-game World Series over the Atlanta Braves – the franchise's last world title. He no doubt wasn't pleased with last season's last-place finish in the AL Central.
Brendan Maloney/US Presswire
.
Peyton Siva (Louisville)
Siva is the latest talented basketball player from Seattle, where current NBA players Jamal Crawford, Nate Robinson, Jason Terry – and the retired Brandon Roy – are some of the city's talent. The Louisville guard's tattoo gives a nod to the Pacific Northwest hoops hotbed with the city's 206 area code, a skyline that includes the Space Needle accompanied by a crown on top of a basketball for the Emerald City. If Seattle gets an NBA franchise back, we know where Siva would like to take his talents.
.
Meyers Leonard (Illinois)
A sophomore center, Leonard has been a bright spot for the struggling Illini. But his tattoos have garnered attention along with his play. Leonard has "Blessed" tatted on his right arm and "Forever" on his left, which looks rather odd on separate arms. His most-meaningful tattoo may be one that's not visible on his back, where he has "Rest in Peace" to honor his father, according to this interview with The Dagger.
Courtesy of Illinois Loyalty
.
Thomas Robinson (Kansas)
Like White, Thomas Robinson pays tribute to his hometown with an MLB logo – this one of the Washington Nationals tattoo on his right forearm. That arm also has a more somber tattoo that reads "R.I.P. Ali 1991-2007" to honor a cousin who was shot in the chest. But what's the Player of the Year candidate's favorite tattoo, according to what he told kusports.com? "Success is Nothing Without Failure."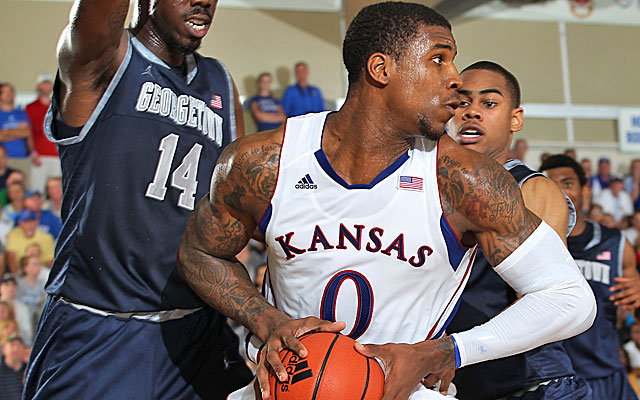 .
Marcus Denmon (Missouri)
You can do worse things that emulate former Memphis star Chris Douglas-Roberts on the basketball court. But Missouri's Denmon – the leading scorer for the third-ranked team in the country – has mimicked the scroll tattoo that's on the right arm of Douglas-Roberts. Denmon has his on his left arm, where it reads "That which does not kill you, only makes you stronger." The tattoo has served as a source of strength for Denmon, whose cousin, Marion Denmon, was murdered in Kansas City in 2010.
Photo courtesy of Dak Dillon
.
Kat Steward (Kansas fan)
We've seen dedication to your team in college sports before but Kat Steward may take the cake. Known on a Facebook page as "THE KU Tatt Kat," her tattoo features the Jayhawks' Allen Fieldhouse, their mascot and a reference to "Rock, Chalk, Jayhawk." The original tattoo for the Overland Park, KS, native took 15 hours. But she then added a national championship banner in April 2008. Now that's attention to detail.
.
Jarell Flora (Seattle)
Seattle University might be a newcomer to Division I, but Flora – a redshirt freshman guard – has one of the most-interesting tattoos in the country: A skull with a rose. There's also the Star of David on his left elbow. As you can tell from the Redhawks' website, Flora likes Miley Cyrus and the Hawks' Marvin Williams – what a combination – and also likes to draw in his free time.
.
Mike Scott (Virginia)
For Scott, his tattoos are all about family. This ESPN.com feature describes his journey to Virginia, where he has helped lead the Cavs' resurgence this season. According to the story, he has the initials of his brothers, Antonn and Derrick, tatted on his wrists. His parents get the prominent spot on his neck, where each has their initials on either side. But the ones that stand out the most are his
Comments
comments