Did Oregon Support System Fail Colt Lyerla?
October 31st, 2013| by Lost Lettermen
By Chris Mahr
Colt Lyerla's Oregon career was supposed to be so much more than it actually was.
A scary mix of size (6-foot-5 and 250 pounds), speed and athleticism, his game-changing skills at tight end were well in line with a Ducks team that had game-changers at every other position on offense. He was the top Class of 2011 prospect in the state of Oregon and the No. 2 tight end recruit in the country.
He lived up to expectations with 11 TDs in his first two seasons. But because of self-inflicted wounds from the past seven months, he'll mostly be remembered for being a sideshow.
While Lyerla's inability to get his head on straight was definitely disconcerting (more on that later), that's not what saddens me most about the demise of his Ducks career. What saddens me most is how he's just the latest troubled college football player for whom a support system from his own program was glaringly absent.
The video above was shot by The Oregonian on October 24th, one day after Lyerla had been arrested for cocaine possession in Lane (OR) County and 17 days after his departure from the Oregon football program. While head coach Mark Helfrich and Lyerla's former teammates expressed hope that he could recover from this latest setback, none of them seemed at all willing to extend a helping hand.
Perhaps that was borne out of frustration that Lyerla had blown previous opportunities to get his act together. Then-head coach Chip Kelly flew in former NBA player Chris Herren – who now makes a living as a motivational speaker, drawing upon his experiences as a former drug addict for material – to address the team in February 2012, although it's not clear if it was Lyerla specifically that Kelly was trying to reach. Lyerla was also cited for four driving infractions in a 24-month period, resulting in the suspension of his driver's license on October 11th. He had also caused a stir on Twitter on March when he suggested that the Sandy Hook Elementary School shootings were a government conspiracy.
Evidently it was a continuation of personal, off-the-field problems that had plagued Lyerla since his high school career in Hillsboro, OR – ones caused by his parents' divorce in 2001 as well as the family's financial and legal troubles. Those closest to Lyerla in high school speculate that the pressure of using football to deliver his family from their troubles was too much for him.
Tyler Kemhus, an assistant coach at Hillsboro High when Lyerla played there, recently told The Oregonian, "What I hope happens is that people who were his biggest fans when he was doing well continue to be supportive of him and not bash him. When things are good everyone wants to be your friend, and when things go bad everyone starts throwing stones, basically."
What's sad is that it's long been a habit of college football teams and fans – a notoriously unforgiving lot by nature (let's not kid ourselves) – to do just that.
Within a major college football program, the most troubled players are the ones that need the most help. Moreover, they're also the ones for whom providing help is the most challenging because their problems are often the hardest to fix. And within a team's regimented schedule, there's seemingly no time to spend on that.
And here's another dirty little secret: Fans and teams find it so much easier to help "good guys" who are enduring trying times rather than the troubled ones.
Who can forget just last year, when everyone (including me) rushed to commend the Notre Dame community for rallying behind star LB Manti Te'o, before the whole fake girlfriend hoax was revealed? It was easy to do because Te'o was a "high quality guy" who was committed to his school, did things the right way and so on and so forth. It's fair to ask whether he would've received the same support had his reputation not been as spotless.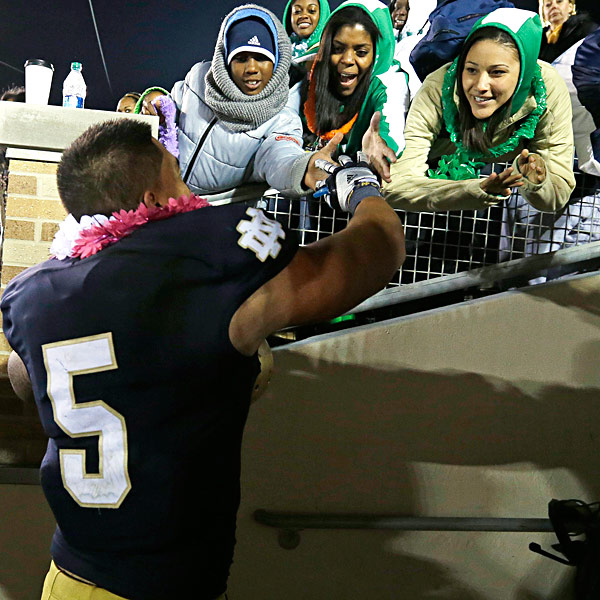 Perhaps he would've had to deal with the same thing that Lyerla dealt with while he was still an Oregon player and what it appears he's dealing with now as a recently former one: A support system that isn't there when he needs it most.
Chris Mahr is the managing editor of Lost Lettermen. His column appears Tuesdays and Thursdays. You can follow him on Twitter at @CMahrtian.
Top Photo Credit: Scott Olmos/USA Today Sports
Comments
comments