EIU QB: Best Player You've Never Heard Of
September 26th, 2013| by Lost Lettermen
Through four games in 2013, Jimmy Garoppolo is projected to finish his senior season with an astounding 5,193 passing yards and 60 touchdowns.
Who, you're probably asking?
Garoppolo is the starting quarterback at FCS Eastern Illinois. He's making a very strong case for the 2013 Walter Payton Award, the FCS equivalent of the Heisman Trophy. Barring injury, he'll shatter almost all of the school passing marks set by EIU's two most famous football alums, Sean Payton and Tony Romo, as well as Ohio Valley Conference marks for passing and total yards. And at 6-foot-3 and 222 pounds, he has the physical makeup to be worthy of an NFL draft pick next spring.
Come and meet the best college quarterback you've never heard of.
The 1,731 yards and 20 TDs (against just three INTs) that Garoppolo has thrown for carries all the more weight in that he's done it against fierce competition.
Two of the Panthers' four games thus far have come against better-than-average FBS opponents: Defending Mountain West champion San Diego State and last year's BCS darling, Northern Illinois. Against the Aztecs, Garoppolo exercised a shocking 40-19 rout, completing 31-of-46 passes for 361 yards and three TDs. This past Saturday, the Huskies were well aware of Garoppolo's skills, yet he still burned them for 450 yards and six TDs in a 43-39 nail-biting loss.
"He does make mistakes, but they are really minute ones," EIU head coach Dino Babers said after Garoppolo set a school record with seven TD passes – including six in the first half – in a 57-24 win over FCS No. 16 Illinois State on September 14th. "Last Saturday, he was as hot as any quarterback I've seen, and I've watched Robert Griffin III from up close."
Indeed, Babers arrived at Eastern Illinois following the 2011 regular season after four years on Art Briles' staff at Baylor. He brought with him the same high-powered offense that transformed RGIII into a Heisman Trophy winner and the long-moribund Bears into a Big 12 force to be reckoned with.
Last year, Garoppolo took to Babers' attack quite nicely, throwing for an OVC-record 3,823 yards and 31 TDs. This season has been even better.
"A big thing is getting reps at all the plays because there are so many," Garoppolo said. "It's just one of those things where it takes time to get used to the plays and everyone around you."
Not only is Garoppolo on pace for by far the most passing yards and touchdowns of his career, he's also projected to throw fewer than double-digit picks in a season for the first time.
"I watched all my interceptions from the season before during the offseason," he said. "It's about making smart decisions. Repping the play consistently over and over, you learn where the ball goes."
The same could be said about Garoppolo's growth as a whole at the quarterback. He wasn't a full-time starter at the position until his junior year at Rolling Meadows High School in suburban Chicago, having played running back and linebacker for the entirety of his football life up to that point.
"I could always throw the ball well because I was a baseball player," Garoppolo said. "My freshman year, our QB got hurt and they put me in there. I only lasted two games after breaking a finger on my throwing hand. My junior year, we needed a quarterback and the coaches said, 'Hey, you played it freshman year, play it again.' "
He threw for a modest 3,960 yards and 34 TDs over the next two seasons while adding 1,115 yards and 14 TDs on the ground. It was enough to draw attention from college recruiters, including those from the program he eventually decided on.
The legacy that both Sean Payton and Tony Romo (below) had left at EIU impressed Garoppolo, yet that wasn't what truly brought him to Charleston, IL.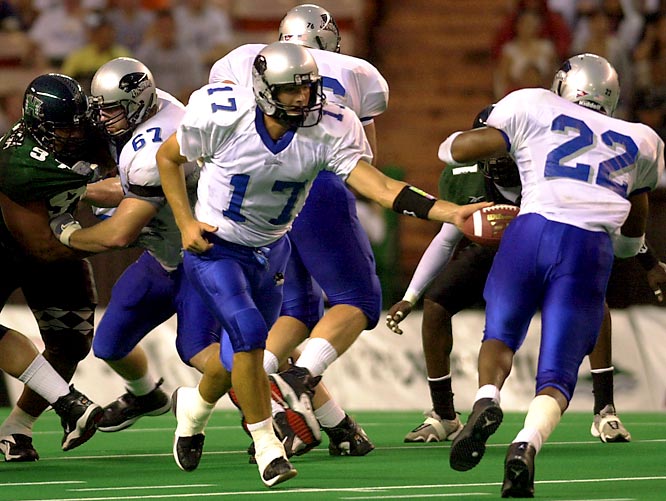 "When [former offensive coordinator Roy] Wittke started recruiting me, he never beat around the bush and just told me the straight truth," Garoppolo said. "When he told me they were going to offer me, they offered me. Before that, when they were recruiting other QBs, he told me who they were. And there was a family atmosphere when (former head coach Bob) Spoo was here. It's only grown under Coach Babers."
As have Garoppolo's NFL prospects, which he admitted to "always [having] in the back of his head." NFL draft guru Gil Brandt rated Garoppolo the 48th best senior in the country at any position or level before the season started – one spot behind heralded San Jose State QB David Fales and ahead of household names like Fresno State QB Derek Carr – and the attention has only grown in recent weeks. ESPN analyst and quarterback guru George Whitfield mentioned Garoppolo as an FCS player to watch on the September 21st edition of "College GameDay." Ohio State head coach Urban Meyer called him "one of the best quarterbacks I've ever seen'' after watching tape of the San Diego State game (the Buckeyes played the Aztecs the week after the Panthers did).
But Garoppolo's too focused on and having too fun with this season to worry about the draft right now. He's excited about the national title prospects of the Panthers, who are ranked eighth in the Sports Networks' FCS Top 10, chasing a second straight OVC title and hope to make a deep run in the playoffs.
All the while, he takes heart in how Romo, Joe Flacco and other quarterbacks that share his small-school background have made it in the NFL. But he doesn't use it as an excuse to rest on his laurels just because he's put up big stats this year.
"All these guys, it's not like they were handed an NFL contract or anything like that," Garoppolo said. "If you put in the work, good things will work out for you."
His mind-boggling stats through the first four games of this season suggest that Garoppolo has put in the work and then some. And it might not be long until many more people know who he is.
Top and Bottom Photos Credit: Christopher Hanewinckel/USA Today Sports
Comments
comments