Fab Five Reconciliation Up to Jalen Rose
January 30th, 2013| by Lost Lettermen
By Jim Weber
Michigan is No. 1 in the country for the first time since the Fab Five Era. This should be a time to celebrate how the program has finally come full circle from the greatest recruiting class in college basketball history after many down years.
But don't be fooled. There's still a big divide between not only the University of Michigan and the Fab Five, but also within the group itself. And I believe the only way the Fab Five will reconcile both fractured relationships is if the group's eternal leader, Jalen Rose, helps set them right.
Let's start with the divide between Rose and Chris Webber. The two have known each other since they were 12 years old and many people assume the Fab Five's two biggest stars are also best friends. But that's not the case. As ESPN's Bill Simmons aptly put it when discussing the duo's relationship with Rose last fall, the two are more like brothers than friends. They love each other, but they aren't very close.
That actually shouldn't be a big surprise considering how different the two are. Rose is the same brash, outspoken, polarizing showman he's always been while Webber is still the shy, insecure and sensitive man-child. The two mix like oil and water.
And from all indications, the divide between Rose and Webber is still large. Rose has admitted in recent interviews that the two rarely speak and that the other four members are closer to each other. Webber? He rarely says anything at all about being a part of the Fab Five.
And there's no doubt in my mind Rose has put further strain on the relationship in recent years, starting with ESPN's "30 for 30" on the group in 2011.
There was Rose, who was an executive producer on the project, laying out how cushy Webber's high school environment was at the private Detroit Country Day while Rose played in the inner city. Throw in Bryan Burwell, formerly of The Detroit News, saying that Webber unsuccessfully tried to be a "street kid" like the others and the movie reached an uncomfortable place in which Webber was placed eerily close to Grant Hill – whom Rose went on to indirectly call an "Uncle Tom."
Later, Rose spoke openly about how Webber disowned notorious booster Ed Martin in 2002 while the NBA star was being investigated for lying to a grand jury and obstructing justice. Rose said it pissed him off, threw a "monkey wrench" in his relationship with Webber and then added Martin and his family didn't deserve what Webber did. I completely understand why Rose was upset back in '02 but to air that grievance on national television a decade later without Webber there wasn't fair to their friendship either.
If Webber is a brother to Rose as the former guard said, what happened to "keeping everything in the family?"
And let's not forget, Martin was no saint. He was federally indicted and charged with illegal gambling, conspiracy and money laundering. Giving hundreds of thousands of dollars to future NBA stars hoping they would one day reciprocate is hardly the equivalent of pouring money into a local YMCA. And it was Martin's plea bargain in May of 2002 that resulted in Webber's obstruction of justice charges later that year, so Martin was looking out for himself just as much as Webber.
Look at the "30 for 30" from Webber's point of view: Rose had just helped portray him on national TV as a wanna-be thug and traitor.
Compounding the problem, Rose went on to openly question why Webber wouldn't participate in his film. First of all, no lawyer in their right mind would let Webber take part in a film covering a scandal he almost went to prison over. And if you had gone through what Webber did and were currently under a 10-year disassociation ban from your old school, you probably wouldn't feel much like reminiscing either.
In my view, the lowest blow from Rose came during the aforementioned interview with Simmons last fall, when Rose explained the distance between him and Webber thusly: "He may or may not ever admit this: I think that [national title game] timeout really screwed him up emotionally, to the point he wanted to disassociate himself with the entire Michigan scenario. He wants to act like that it never happened. And the domino effect of that has been the relationships with not just me, but the other four – with other members of the Fab Five."
Translation: "No one's close to Chris because he's a headcase." Geez, thanks Jalen.
Rose went on to clarify that Webber is like his "little brother" – perfectly summing up their relationship: Rose always sounds condescending to Webber and then acts puzzled as to why their relationship isn't strong.
I understand that Rose was just being honest on how he views the situation. But not having a filter can hurt a lot of feelings, especially when dealing with someone who appears as sensitive as Webber. While I doubt Rose regrets what he's said publicly about Webber in the last couple years, I think he should pick up the phone and apologize to his former teammate for only piling on top of someone who is forever tortured over a timeout he didn't have and the stain of the Ed Martin scandal.
As the group's leader, Rose should acknowledge how he would feel in Webber's shoes and pick up the phone to extend an olive branch. All he has to say is, "Chris, I consider you a brother and apologize for not treating you how a family should. Pick a weekend and the five of us will get together."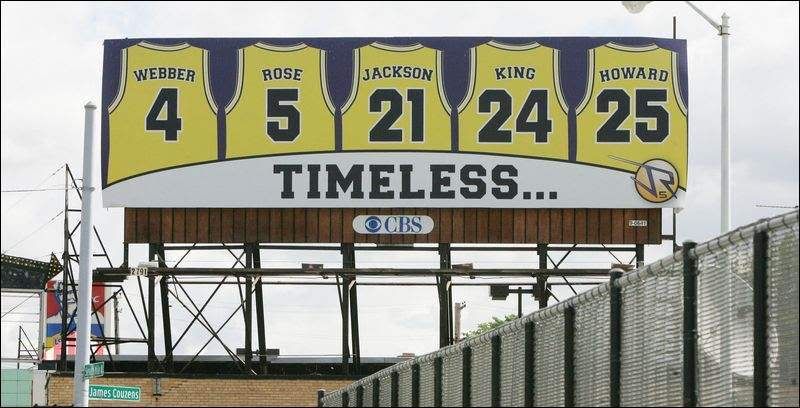 Because only once the Fab Five heals its own wounds do I think it will reconcile with the University of Michigan as a group when Webber's disassociation ban from the university ends this May.
As someone who was a student there when the self-imposed sanctions were imposed, trust me when I say the Fab Five's Final Four banners will never hang from the rafters again. But Michigan athletic director Dave Brandon wants to re-embrace the Fab Five. Rose wants it to happen. You know the current players would love it. And the fans are dying for it to happen.
The only obstacle in the way is Webber issuing an apology, as required by Brandon.
Columnists like ESPN's Jemele Hill say Webber should never apologize. "As long as the Wolverines keep the millions they earned from the Fab Five's two Final Four runs, merchandising sales and whatever other side benefits came along with having one of the most influential college basketball teams in history, then Webber doesn't owe the university anything," she writes.
I think that's a lazy and clichéd argument. Yes, it's not fair that Michigan made millions off the Fab Five and the group got none of it. But that has nothing to do with the Ed Martin scandal or even the University of Michigan, for that matter. Webber should take the issue of payment up with the NCAA.
I don't believe Webber is sorry for taking money from Martin and I don't blame him. But as Jimmy King said of the situation in 2011, "I would say that [Webber] does owe the university an apology because it is a fractured relationship. He didn't necessarily do anything that he has to apologize for, but this is what I was taught: Sometimes you have to apologize for things you didn't even do to be the bigger person about it and put things to rest."
Brandon clearly wants the Fab Five back in the Michigan family but it would be career suicide to honor Chris Webber without some show of remorse – however contrived it might be – from the player at the center of one of the biggest college sports scandals ever. Not to mention the fact it resulted in sanctions that crippled the basketball program for over a decade and forever stained the program and university's image.
If Rose is able to rekindle the Fab Five's relationship with one another, I truly believe the other four will convince Webber of what King said. Webber would then issue a generic press release that apologizes "for the damage I've caused everyone associated with the university and basketball program as a result of my actions" – or some politically-correct B.S. like that.
For all the group accomplished, the way Webber gushes about college being the best years of his life and everything Webber has gone through over the years in relation to "The Timeout" and the Ed Martin scandal, no one would find walking back out onto the floor of Crisler Arena to a standing ovation more cathartic than Chris Webber. Who knows, we might even see the Fab Five cheering on the current Michigan team in Atlanta this April.
But with Webber still isolated from the rest of the Fab Five and the University of Michigan, I think it's up to Rose as the group's leader to make sure things finally get rectified between the three of them.
Because although the Fab Five's last game together ended in heartbreak in the 1993 Final Four, now 20 years later, there's still time for a happy ending. All Rose needs to do is talk things over with Webber by giving him the timeout he's always wanted.
Jim Weber is the founder of LostLettermen.com. You can follow him on Twitter at @JimMWeber and @LostLettermen.
Comments
comments