Florida Has Replaced Miami as 'Convict U'
July 29th, 2013| by Lost Lettermen
By Jim Weber
It was a hell of a run but after three decades, Miami (FL)'s dynasty as "Convict U" has finally come to an end thanks to its in-state rival 350 miles north.
The mantel has officially been passed to the University of Florida with ex-Gator Aaron Hernandez facing first-degree murder charges in the most shocking athlete arrest since O.J. Simpson.
The most notorious program in college football history became "Convict U" during the "glory days" of the 1980s and early '90s that were full of trash talk, Luther Campbell bounties and arrests. It spanned the Larry Coker Era, lowlighted by the 2006 FIU brawl. And it's grand finale was the mind-boggling Nevin Shapiro scandal that broke in 2011 and proved even Hurricanes' boosters are meant for a life behind bars.
"The U" has become so infamous over the years that Sports Illustrated has twice called for the program to be shut down. It was also a punch line for jokes such as team pictures being taken from the front and the side and new uniforms being orange jumpsuits.
But with current and former Hurricane players staying relatively out of the police blotter over the last couple years (two recorded arrests total between 2005-09 and no high-profile legal incidents since then), Miami has now been supplanted as the poster boys for dysfunction by its neighbors up north.
It's been a long time coming for the Gators, who had a ridiculous 31 player arrests by 30 players during Urban Meyer's tenure from 2005-10. While all college football programs have to deal with off-the-field issues, many of the arrests involving UF football players weren't the garden variety minor drug busts and alcohol offenses. Fraudulent charges on a credit card of a female student that died months earlier. Threats to kill an ex-girlfriend. Punching and spitting on a man, then getting an AK-47 out of his trunk and firing it off outside a night club.
Now there's Hernandez.
Charged with first-degree murder over a June homicide, his time in Gainesville involved a fight with a bouncer, being probed about involvement in a 2007 shooting and a suspension over a failed drug test. Hernandez hasn't been on Florida's football team in three years but he will always be a Gator and represent the University of Florida.
Off-the-field behavior hasn't been much better at Florida under Will Muschamp, who walked into a toxic environment featuring troublemakers recruited by Meyer who were used to light punishments (see: Janoris Jenkins). There have been 14 players arrested since Muschamp took over in December of 2010.
That's a total of 44 arrested players since 2005. Think about that number: It's almost half a college football roster.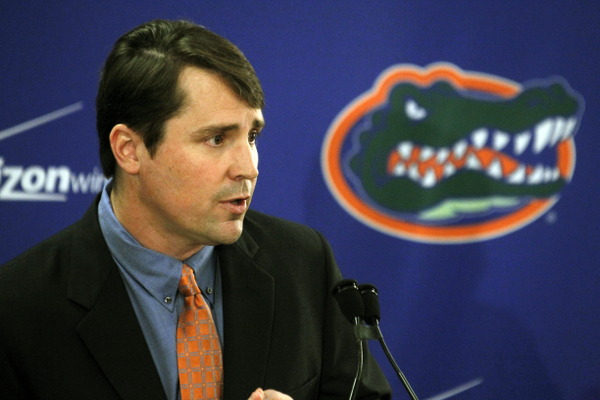 Like what happened at "The U," the media has now turned a critical eye on the crime involving Florida football players in recent years. Jokes have started being made about the "Incarce-Gators."
It doesn't help that current and former Florida players have been involved in other recent arrests that read like headlines from The Onion. Punching a bouncer (hopefully not the same one Hernandez slugged, otherwise that'd be really unfortunate) and screaming, "I'm Antonio!" Barking at a police dog. Grand theft auto for riding a stolen scooter. Leaving a daughter in the car while visiting a strip club.
You can't even make this stuff up.
The negative stereotype now attached to the football program will only be perpetuated by the extra scrutiny any future arrests by current or former players will receive. That includes the likely conviction of Hernandez in his murder case and any future arrests for troubled ex-Gators now in the NFL like Jenkins (three arrests at Florida), Chris Rainey (death threat) and Carlos Dunlap (DUI before 2009 SEC Championship Game).
The crime capital of college football has moved from Coral Gables to Gainesville and the stain from Florida football's legal woes won't be removed nearly as easily as Hernandez's All-American brick.
It's instead an awful stench that will hover over The Swamp for many years to come.
Jim Weber is the founder of Lost Lettermen. You can follow him on Twitter at @JimMWeber and @LostLettermen.
Comments
comments