Is 2013 Make-or-Break for Boise State?
June 11th, 2013| by Lost Lettermen
By Chris Mahr
To watch Boise State football over the past seven seasons has meant to be guaranteed perennial success.
Every year since 2006, the Broncos have won 10 or more games. Every year in that span, with the exception of 2007, they have finished the season inside the Top 20 of the AP rankings. Every year, they have seized the role of "America's Favorite Football Team" and run with it.
Such success from a non-traditional power is heartwarming to witness, but there is a downside to it: It becomes less surprisingly feel-good and more expected. Any season in which that success isn't duplicated or exceeded is considered a disappointment.
The infrastructure that's been built in Boise suggests that the Broncos are well-positioned to be a winning program for the foreseeable future. Yet what transpires in 2013 could go a long way toward determining whether Boise State will cast itself as a contender in the new-look college football landscape or as a team that's perpetually not quite good enough and stuck looking in on the playoff picture.
There are three interconnected reasons why the Broncos could be looking at a make-or-break season.
Reason No. 1: Stiffer Conference Competition
One of the reasons why Boise State has long been a threat to crash the BCS party has been their superiority to their conference rivals. If the Broncos ever got past their tough, out-of-conference games in the season's opening weeks, they were a good bet to run the table on their overmatched opponents in the WAC or the Mountain West.
That's hardly the case anymore. The Broncos have suffered a late-season, intra-conference loss in each of the last three seasons — to Nevada (2010), TCU (2011) and San Diego State (2012) — that has derailed their BCS hopes. From the looks of it, they'll be challenged even earlier and more frequently in 2013.
Six of Boise State's first eight games are against 2012 bowl teams. Four of those matchups are against Mountain West opponents, including road dates against Fresno State (September 20th) and Utah State (October 12th).
Boise State is too established a program at this point that it'll wilt at the first sign of adversity. That being said, it needs to prove its top-dog status now that its conference opponents are no longer puppies but rather full-grown canines.
Reason No. 2: Talent Gap is Closing
While Boise State always prided itself on winning as a team, it has always had its share of star players in its best years — particularly at quarterback (Ryan Dinwiddie, Jared Zabransky, Kellen Moore) and running back (Brock Forsey, Ian Johnson, Doug Martin). Those players were difference-makers, the ones who demonstrated the gap in talent between the Broncos and their conference counterparts.
That personnel advantage is no longer guaranteed. In fact, several other MWC teams might possess more talent heading into 2013.
Starting QB Joe Southwick is perhaps the sixth-best passer in a league that's chock full to the brim with them. Sophomore RB Jay Ajayi is talented but unproven. For the first time in recent memory, the Broncos' normally electric offense struggled last year, averaging a pedestrian (by their standards anyway) 30.2 PPG (55th in FBS).
Both Southwick and Ajayi — and the other members of the offense — have an opportunity this season to make their forebears proud.  Even if they do, they're not assured of being the best QB or best RB in the conference. At this point, the league is just too talented for Boise State to assume they have a personnel advantage just because they're Boise State.
Reason No. 3: The Future of Chris Petersen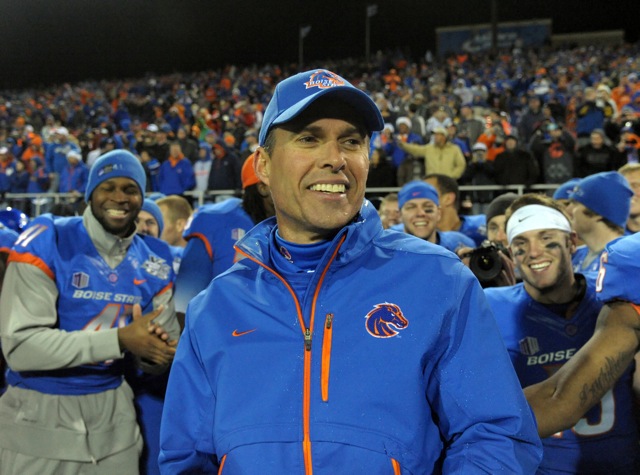 Boise State's head coach — he of the gaudy 84–8 (.913) record in seven seasons leading the Broncos — was this close to taking the Arkansas job last December, only to back out at the last minute. He cited his family being happily entrenched in Boise as the reason why he remained with the Broncos.
All of which must have been music to the ears of Boise State fans after their team signed Petersen to a new five-year contract last February. It would be blindly faithful, however, to assume that Arkansas will be the last offer from a BCS conference team that Petersen will be extended.
He's too sharp a football mind not to be constantly besieged by bigger, higher-profile teams looking for a head coach to put them over the top. He's gone 35–4 over the past three seasons, yet all he has to show for it is three Maaco Las Vegas Bowl victories. It has to feel at least a little monotonous for him at this point, coming so close to going back to a BCS bowl for the third time yet having to settle for a much less important bowl game after an upset loss late in the season.
By nature, college football coaches don't like monotony. They like a challenge, particularly if it means moving for a low-profile gig to a high-profile one — which is exactly what Petersen was offered to do in Fayetteville in December before staying where he was.
Who's to say that the next offer he gets won't be even more enticing, particularly if he has to settle for another Maaco Las Vegas Bowl berth or something similar? Of course, if he leads Boise State back to the BCS (the Broncos' last berth was the 2010 Fiesta Bowl), his faith in the Broncos could be reaffirmed.
.
For the first time in recent memory, Boise State isn't completely comfortable with itself entering a season. There are questions — personnel and otherwise — that need answering. It feels like they'll be genuinely challenged for the first time in a while.
What's more, this is taking place in the final year of the BCS, before college football enters the "Era of the Playoff." The Broncos could enter this new era either as a force to be reckoned with for the foreseeable future or a perpetual pretender.
Maybe it's not quite make-or-break, but it's certainly close.
Chris Mahr is the managing editor of Lost Lettermen. His column appears Tuesdays and Thursdays. You can follow him on Twitter at @CMahrtian.
Middle Photo Credit: Troy Babbitt/USA Today Sports
Comments
comments