Kenny Guiton: Legit NFL Draft Prospect
September 23rd, 2013| by Lost Lettermen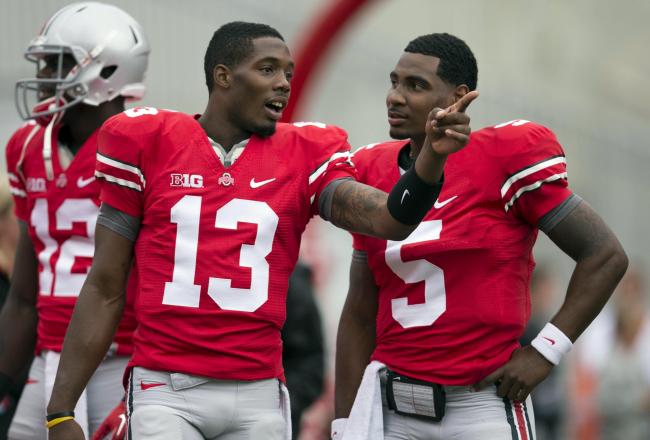 By Jim Weber
Here's something I never thought I'd write: Ohio State back-up quarterback Kenny Guiton is a legitimate NFL draft prospect.
Make no mistake. Guiton is headed back to the bench for next week's Wisconsin game if Braxton Miller is healthy despite Guiton's brilliance over the last couple weeks,. You don't pull one of the best players in college football who wreaks absolute havoc on defenses with his feet because his back-up shredded a couple bad defenses. But Urban Meyer would be crazy not to have packages that get Guiton on the field for the rest of the season and don't be surprised if you hear Kenny G's name called during the 2014 NFL Draft.
Go ahead and laugh.
I thought Guiton was a fluke too when he led Ohio State down the field last fall to tie Purdue with three seconds left and then win the game in overtime, 29-22, with Miller hurt. But it's clear this kid is the real deal after what he's done the previous three games with Miller injured again. And I think Guiton actually has a brighter potential NFL future than Miller, who has yet to prove he can be an accurate passer.
Guiton's numbers speak for themselves this season: 13 touchdowns, a completion percentage of 68.4% and a quarterback rating of 168.1. Oh, and a school-record six first-half touchdown passes on Saturday. I don't care if his stats have come against Buffalo, San Diego State, Cal and Florida A&M.
Guiton has the size of an NFL quarterback (6-foot-3, 210 pounds), pinpoint accuracy on his throws, a beautiful deep ball, good enough running skills and an uncanny ability to make great decisions considering the redshirt senior has been holding a clipboard for most of the previous four years.
No, he doesn't have a big arm that NFL scouts drool over but I'm so tired of hearing that complaint about NFL draft prospects. That was once also said about current Green Bay Packers QB Aaron Rodgers, who is now regarded as having one of the biggest cannons in the league.
Despite his lack of experience and not having jaw-dropping ability, I believe an NFL team should spend a late round draft pick on Kenny G and make him a project who could become a solid back-up or possibly even a starter one day. An ideal fit for Guiton would be a place with an established starter (think: Denver, Green Bay or New Orleans) that could tutor him while he puts in the work during practice over the next couple seasons to make up for his inexperience.
It might sound crazy, but college back-up quarterbacks have had success in the NFL on multiple occasions. Brad Johnson (Florida State), Matt Cassel (USC) and Joe Flacco (Pitt) were all players who were FBS backups in college before ironically having much better careers at the next level. (Granted, Flacco transferred to FCS Delaware instead of staying at Pitt).
And just look around at some of the quarterbacks on NFL rosters this season: Rex Grossman (Redskins), Jeff Tuel (Bills), Ricky Stanzi (Jaguars), Matt McGloin (Raiders), Dan Orlovsky (Buccaneers), Ryan Lindley (Cardinals), B.J. Daniels (49ers) and Brad Sorensen (Chargers, below) are some of the underwhelming signal-callers Guiton could replace during next summer's training camp.
Sorensen was deemed worthy of a draft pick last spring (seventh round) and roster spot after finishing his career at Southern Utah last fall with 3,100 yards passing, 23 touchdowns and 10 interceptions. What Guiton's already done through four games is more impressive than that.
Come to think of it, Guiton has a better shot at NFL success than any QB currently on the Jacksonville Jaguars roster (Blaine Gabbert, Chad Henne and Stanzi) – I know that's not saying much.
That's why I see no reason why an NFL team in search for back-up help at the most important position in American sports shouldn't spend a fifth or sixth round pick on a player with so much upside.
So if you hear the name "Kenny Guiton" called during next spring's NFL draft, remember not to adjust your television.
Jim Weber is the founder and president of LostLettermen.com. You can follow him on Twitter at @JimMWeber and @LostLettermen.
Comments
comments