Mack Brown Has Bad Case of Loser Denial
August 26th, 2013| by Lost Lettermen
By Jim Weber
I've never heard anyone say a bad thing about Mack Brown the person, and the man has done great things during his coaching career. But let's be honest: The Texas head coach has a bad case of loser denial – and it's not fair to the Longhorns' program.
I can just picture Brown at a cafeteria table across from Charlie Weis and Texas predecessor John Mackovic after being doused with pudding by Bob Stoops: "Loser? I ain't no loser. I was the king of this school. A hundred trophies, a million wins. You guys are losers, not me."
Brown isn't a "loser," per se. But he's got a serious case of loser denial since he thinks Texas is going to play for a national title again very soon. Brown refuses to accept he will never get the program back to where it was between 2005-09, when Vince Young and Colt McCoy led the Longhorns to a combined 60-8 record, dominated Oklahoma, won the '05 national title and reached the 2010 BCS National Championship Game.
Brown's stubbornness about leaving on top is blinding him to reality.
Brown's state of denial is nothing new. In fact, he's had it since Texas' abysmal 5-7 season in 2010. It appears it was then that Brown decided he wasn't going to retire in Austin until he had the Longhorns back to being a powerhouse, despite naming then-defensive coordinator Will Muschamp the head-coach-in-waiting in 2008.
The last two years have been better than the 2010 disaster but still not nearly up to Texas standards. In 2011, Texas lost five of its final eight games to finish 8-5. The Horns went 9-4 last season but that doesn't tell the whole story; UT nearly lost to Kansas and wasn't even competitive against Kansas State or Oklahoma. This GIF of a UT fan during the 63-21 drubbing at the hands of OU best sums it up:
Brown's delusions of grandeur have been heightened this offseason, as he seems to believe his rebuilding project is finished. Brown has said things recently like, "We're back where we want to be," suggesting that Texas can compete for the 2013 BCS title and that he plans to coach until 2020 so that he can "get back on another roll" like from 2005-09.
In other words: "I'm staying as long as it takes."
This year's team, while a Top 25 squad, won't be competing for a national title. On multiple occasions last fall against, the defense was simply abominable by Texas standards; for the year they finished 73rd in scoring "D." In one offseason, that same team is suddenly in the category as Alabama, Ohio State, Oregon, Stanford or the other SEC power players? I don't think so.
In fact, I can't see the Longhorns going through a tough schedule (preseason No. 16 Oklahoma in the Cotton Bowl, home games against Ole Miss, Kansas State, and No. 13 Oklahoma State plus road contests at BYU, No. 20 TCU and Baylor) without at least three losses, most likely four.
Brown has made it clear he doesn't care about hurting his "legacy" by continuing to coach past his prime. But I know he loves Texas, and he's refusal to accept that he can't get Texas back to its "glory days" under him isn't fair to the program he loves.
First, Brown let Muschamp get away to Florida after the 2010 season. If Brown had retired when he was expected to, Texas would have a bright, energetic 42-year-old head coach that appears to be a rising star in the profession.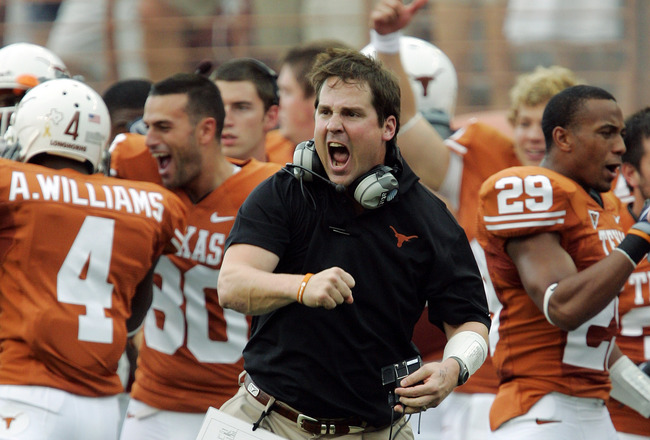 Now Brown is hurting the program by not letting athletic director DeLoss Dodds – who is tied to Brown at the hip – go out and pick almost any coach to take arguably the best college football coaching job in America and make Texas a powerhouse again. That includes candidates like (gasp!) Alabama's Nick Saban, TCU's Gary Patterson and Texas A&M's Kevin Sumlin – all of whom would immediately re-energize the program.
If Brown turns it around this year, more power to him. But to echo Veronica Vaughn: "You say you're not a loser Mack Brown. So win."
Because after three years of mediocrity, it's time for Brown to either compete for a national title or accept he can't do it anymore and retire for the sake of the program.
Jim Weber is the founder and president of LostLettermen.com. His column appears Mondays and Wednesdays. You can follow him on Twitter at @JimMWeber or @LostLettermen.
Comments
comments