Newton Has a Blast at Auburn CBB Game
February 7th, 2013| by Lost Lettermen
Cam Newton blew through Auburn so quickly en route to leading the Tigers to the 2010 national title and winning the Heisman Trophy that he never got to truly have the typical college experience. If his appearance at Wednesday night's Alabama-Auburn basketball game is any indication, he's making up for lost time.
Back on The Plains to take classes toward his degree, Newton was in the student section at Auburn Arena cheering on the Tigers. He even got to hold and use the cheerleaders' megaphone. Later, he sat courtside and hammed it up with his former offensive coordinator and new Auburn football coach Gus Malzahn.
And from a social perspective, Newton isn't letting his standing as an NFL quarterback interfere with his ability to function as a normal college student.
Just talked to Cam Newton!!! I asked him to formal and then he asked me when formal was!!! #freakingout

— Rachel Fisher (@rachann21) February 7, 2013
Yup, just a typical college student. Although we have to ask: What is up with that sweater? Cam Newton profile
[Busted Coverage | College Spun]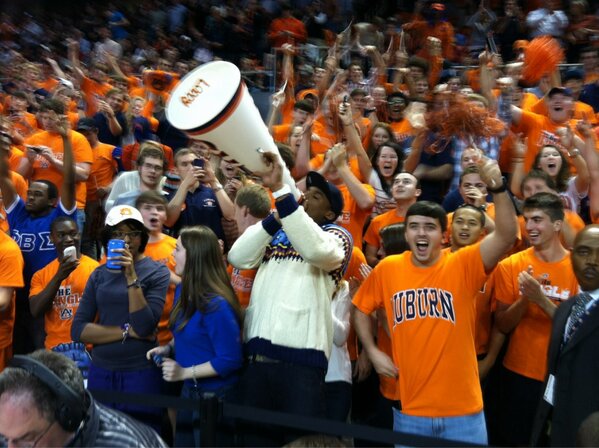 Comments
comments