Oklahoma Football: Sooners Botch University Advertisement (PHOTO)
September 4th, 2014| by Lost Lettermen
It's 10:09 am and … RT @chrismlusk: OOOOOOOOOOOOOOOOOOU! pic.twitter.com/wfbLTZHnnd

— Burnt Orange Nation (@BON_SBNation) September 2, 2014
As a football program, Oklahoma looked as good as advertised in its 48-16 victory over Louisiana Tech on Saturday. As a learning institution, not so much.
The school committed a huge advertising fail, airing a TV ad during the game that read "YOU'RE DEGREE IS WITHIN REACH."
We hope we don't have to point out the error or lay out why this sort of thing looks bad for an institution of higher learning.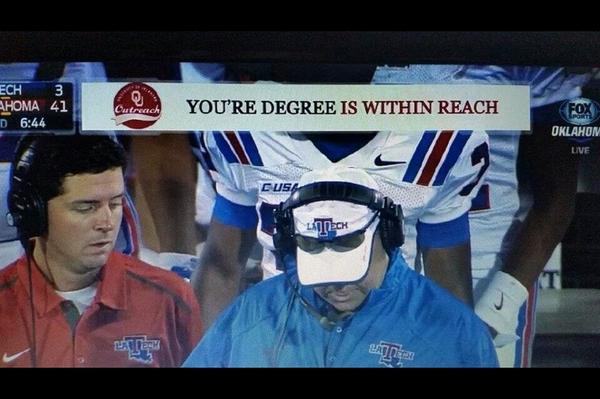 Comments
comments