Oregon FB Unveils Flashy New Uniforms
September 2nd, 2012| by Lost Lettermen
No. 5 Oregon opened its 2012 college football season the best way it knows how on Saturday night: With splashy new uniforms that grabbed everyone's attention.
Despite unveiling two new variations of their liquid metal helmet from last January's Rose Bowl just weeks ago, the Ducks of course ran onto the field at Autzen Stadium wearing another variation of their popular look. Instead of using the carbon fiber or green version of the lid, Oregon went with a mustard yellow helmet, bright green jerseys and yellow pants that conjured up images of their 1990s "Gang Green" look – but set 10,000 years in the future.
The look, as always, divided people, but had most on Twitter singing their praises. Jimmer Fredette's wife, Whitney, tweeted:
Oregon's uniforms > everyone else's

— Whitney Fredette (@whitneyfredette) September 2, 2012
And ever-talkative Atlanta Falcons WR Roddy White put it this way:
Just seen Oregon uniforms just nasty ridiculous swaggggg

— Roddy White (@roddywhiteTV) September 2, 2012
Yes, the look is over-the-top, blinding and ridiculous. But Oregon once again accomplished its goal of appealing to young people, getting everyone talking and ultimately becoming a recruiting tool.
And we have to admit even as uniform traditionalists, we kind of like them. Maybe Nike has officially brainwashed us. Grade: A-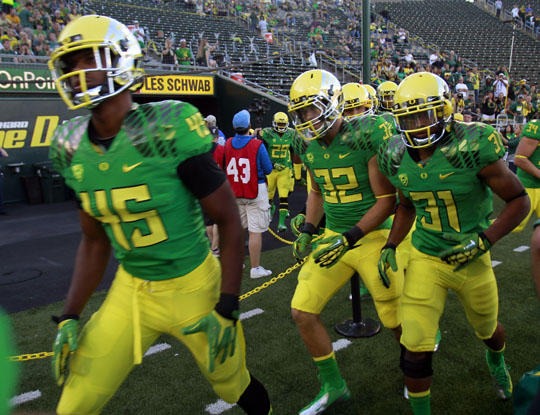 Comments
comments