OU's Thompson Has Embarrassing Arrest
May 12th, 2013| by Lost Lettermen
Kendal Thompson's quest to win a three-way battle with Blake Bell and Trevor Knight for Oklahoma's starting QB job just got a lot harder.
Early Friday morning, Thompson was arrested for "public intoxication and interference with official process." Arresting police officer Steven Boxford said he spotted Thompson "lying on a hill on his right side and snoring" and detected alcohol on Thompson's breath.
When Thompson failed to obey Boxford's commands upon waking up, Boxford was forced to use physical force against him.
"He continued not to obey commands, and I grabbed his right arm and completed a spinning arm bar to take the defendant to the ground," Boxford said in the affidavit. "Once on the ground, the defendant continued to fail to obey commands to put his hands behind his back and get on his stomach."
Compounding the embarrassment of this arrest is the fact that Thompson is the son of former Sooners QB Charles Thompson, whose January 1989 arrest for selling cocaine to an undercover cop landed him on the cover of Sports Illustrated and led to the resignation of then-head coach Barry Switzer.
The elder Thompson — who turned his life around after his arrest and prison sentence — will no doubt have a long word with his son, if he hasn't already.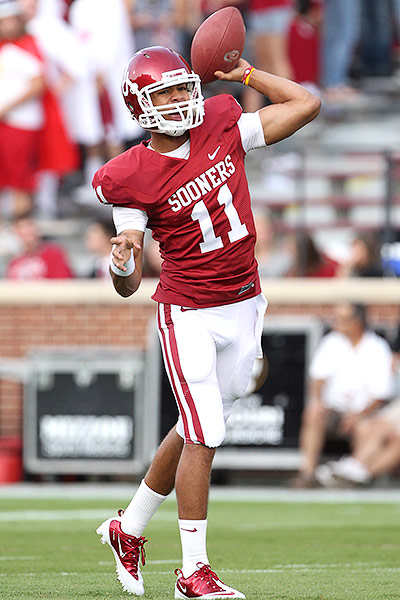 Comments
comments