Pelini Acts Icy to Decommitted WR Recruit
January 28th, 2013| by Lost Lettermen
Wide receiver Dominic Walker expected some awkwardness when calling Nebraska's coaches on Friday to tell them he was switching his pledge to Auburn. But the response he received still came as a bit of a shock.
Wide receivers coach Rick Fisher's alleged response of "I can't believe you" was an icy one but nothing compared to what head coach Bo Pelini allegedly said: "Best of luck, you're going to need it."
"It was a very tough decision," Walker told the Orlando Sentinel. "They were [mad]. They were very mad. But I thought I had to call them like a real man should."
Sore losing in college football isn't just reserved for the playing field.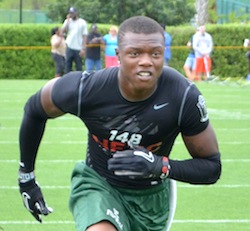 Comments
comments