Podcast With Heisman Pundit's Chris Huston
July 17th, 2013| by Lost Lettermen
There's still 43 days until the college football season starts, but it's never too early to project who will be the next Heisman Trophy winner. Texas A&M QB Johnny Manziel is trying to become just the second player to ever win the stiff-armed statue twice, while Ohio State's Braxton Miller, Louisville's Teddy Bridgewater and South Carolina's Jadeveon Clowney – among others – are all in the mix to receive the award this December in Manhattan.
Jim Weber recently spoke with Chris Huston of HeismanPundit.com and CBSSports.com. Huston explained why Manziel won't win this year's trophy, who his favorite is and the dark-horse people should keep their eyes on.
.
.
Jim Weber: This is Jim Weber from LostLettermen.com and I'm joined by Chris Huston, a.k.a. "The Heisman Pundit", also of CBSSports.com. Chris, I want to start by asking: You said that Johnny Manziel will never win another Heisman trophy. So, who is your pick to win the 2013 Heisman?
Chris Huston: I think the best chance for a guy to win this year lies with Braxton Miller of Ohio State. I think he is sort of in the sweet spot when it comes to game exposure and he is going to do his second year in Urban Meyer's offense system. He finished fifth in the Heisman vote last year. He had a great year last year as a sophomore.
And he has a really good chance to, when the Heisman vote is due, be 24-0 as a starter if for some reason, the Buckeyes go through a regular season [undefeated]. That's a very impressive stat to have. And I think everything has sort of lined up well for him. It doesn't mean he is a shoe-in, but I would consider him the front runner at this time.
JW: So you listed a couple of pitfalls that lie in Johnny Manziel's way. One of which is just that expectations are so high that whenever he messes up, it will just be magnified. But, do you think if he replicates his freshman year, in which he broke Cam Newton's yardage record in the SEC, do you think he still would not win the Heisman?
CH: No, I think he probably would win the Heisman if he replicates that year. I think what I'm trying to say is that the odds of him replicating that year are probably pretty low – just because it was an incredible year, it was sort of a lightning in a bottle type of year. And to have that kind of year twice in a row is very difficult. A lot of things have to go right, you have to stay healthy, you know – teams  have to cooperate on the other end, a lot of defenses are going to be trying to prepare to specifically to stop him this year.
And, you know, there is just sort of pressure there now and last year he didn't have this sort of pressure. There is a lot of tension is being put on him, a lot of pressure. So I think that the odds of him doing that are pretty remote. Now, if he does do it, then I don't think anyone will deserve that second Heisman more than he does.
JW: Another player that everyone is talking about is Jadeveon Clowney. His Heisman campaign seemed to start with that huge hit in the Outback bowl against Vincent Smith. What is it going to take for him to win the Heisman? Obviously, he needs to have a lot of stats. But, is he going to need three or four or more of those highlight real plays that people can play over and over again and say "This guy deserves to be the first full-time defensive player to win the Heisman"?
CH: I think a lot is going to have to happen for him to win the Heisman. I think a lot of the other candidates who are offensive players will have to have their seasons implode. I think a lot will have to go right for him. He will have to have incredible numbers. South Carolina will have to have an incredible season.
And, you know, it will have to be a sea change in how we sort of measure the effectiveness of a defensive decent player. I don't see that happening with Clowney. I don't think anybody is coming up with anything special with him besides that fact that he tackles a lot. And, if you are left with those metrics, it's very hard for a defensive player to win. I do think he can get to New York. I think him actually winning the Heisman is a very slim chance.
JW: Going back to Braxton Miller. I think the biggest question people have is that, you know, versus Johnny Manziel, Braxton Miller's schedule looks like a cake walk. You know, the two toughest games are versus Wisconsin and at Michigan, whereas Texas A&M has to go through the SEC West. How much will the schedule hurt him, even if he puts up huge numbers this fall?
CH: Well, it would hurt him if he were playing for a team that was not a traditional Heisman powerhouse like Ohio State. When you play for an Ohio State, no matter what your schedule, you are given respect. Especially, playing for Ohio State team coached by Urban Meyer. This team, if they do go through the schedule and Braxton Miller has a great season, he will be seen as a great player. There is no doubt about it.
What he has the potential to do – it will be fully appreciated. Especially, like I said, earlier – if he's 24-0 and a starter, I'm pretty sure that's something that hasn't happened since Chuck Ealey from Toledo back in the early '70s, starting out at that level. So, you're looking at somebody who would have this extra edge in his resume: his work as a starter, his overall body of work statistically in bringing Ohio State back into the national conversation. So all those things: Playing for a traditional Heisman power  – all those things will sort of trump any concerns over the schedule, I believe.
JW: We know that so much of the Heisman trophy is unfortunately about statistics. Are you worried that Braxton Miller might not just get the numbers he needs to blow these people away because of Carlos Hyde, who turned into a touchdown machine in the second half of last year?
CH: No, I think he'll have the numbers. I mean, he had 1200 yards rushing last year. I think if he duplicates those numbers on the ground and improves his numbers in the air, then I think he's got a really good chance. I think lately, the sort of benchmark for quarterbacks who are going to be considered for the Heisman is to surpass the 40 touchdown combined mark, whether rushing or passing. Once you hit that 40 touchdown threshold, you start to get consideration. And once you get 45 touchdowns and closer to 50, then that's when you're more likely to win.
If you look at the last five Heisman trophy winning quarterbacks, they've averaged 47 combined touchdowns in their Heisman winning seasons – and that's before bowl games. So, if we see Braxton Miller getting over that 40 combined touchdown mark, and getting close to 47, then I think we'll see him reaching that statistical threshold required to have the sort of season that would wow voters.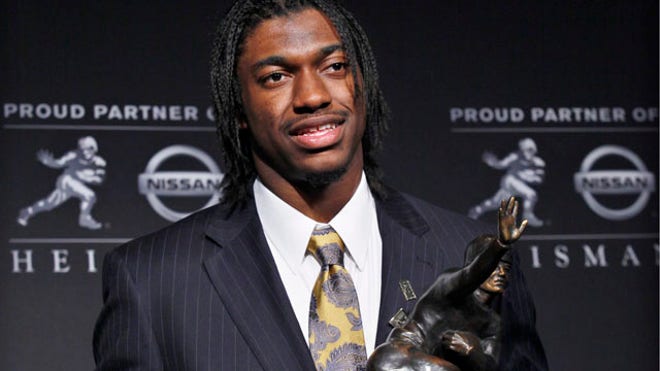 JW: So far, we've talked about the favorites: Clowney, Braxton Miller, Johnny Manziel. But, the last two Heisman winners, especially Johnny Manziel, were not high on Heisman lists going into the season. Who is someone that's completely off the radar right now in regards to the Heisman that you think could end up in New York City.
CH: Well, I'm a really big fan of [Oklahoma QB] Blake Bell and his chances to be the legitimate dark horse. If you look at him, he's in a system where the quarterbacks do put up passing yards. He's already proved himself as a runner. He's pretty much an amazing talent. 6'6", 260, he can run like a deer. So, he can put up the rushing numbers and the rushing totals when he gets down into the red zone.
And I think now that he's given the chance to be a full-time starter, he'll put up the passing numbers as well. So I think he's got a very good chance if he doesn't get hurt, or if he doesn't end up being a complete bust. He's got a real good chance to put up Tim Tebow-like numbers. Seeing how he already sort of has a Tim Tebow-like apprenticeship, ­the same way Tebow did under Chris Leak in 2006, coming in and doing the goal line-type of offense, I think the similarities will be (there).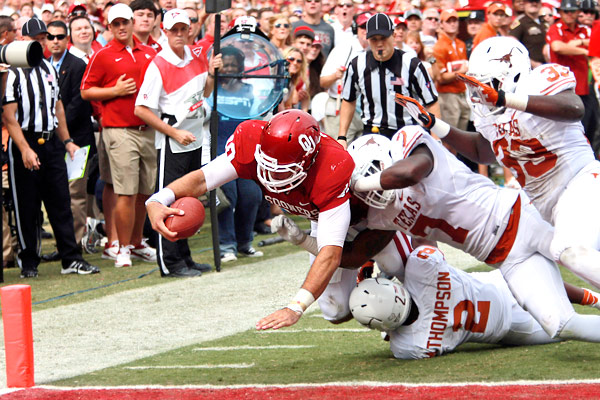 JW: Last thing I wanted to ask about was: Alabama is obviously going for its third national title in a row. Mark Ingram became the first player to ever win the Heisman trophy for the Tide. What do you think the chances are we see another Alabama player winning the Heisman trophy? Obviously, being on such a good team, they have a very good chance. But, when there is two or three candidates really, in the mix – T.J, Yeldon, AJ McCarron, and Amari Coope – are you worried that, you know, they have too many stars that they will split the vote and none of them will end up in New York?
CH: Well, that's not really their main issue. Their main issue is that they don't have a great offense. By that, I mean, they have a talented offense – they have a lot of talent on the line, I'm sorry, in the lineup. But, they do not have a dynamic offense that puts up the kind of numbers or allows for the kind of numbers that is required in this day and age to challenge for the Heisman. You won't see AJ McCarron throwing for over 3,000 yards. He did end up with 30 touchdowns last year after the bowl game, but he's a game manager and that's what Nick Saban wants his quarterback to be. He doesn't want his quarterback to win the game unless they really have to.
They like to run the ball and they like to run it with more than one guy. So T.J. Yeldon is likely not going to have the kind of numbers needed to win the Heisman. And even if you look back at Mark Ingram, he had the lowest rushing totals of any running back to win the Heisman since the early '70s. And it was just a case of, they wanted to give Alabama their Heisman winner – finally. And he won by the closest margin in Heisman history. So for Alabama to really, I think, have a chance to win a Heisman, they are going to have to sort of change their offense philosophy.
Because right now, they're just sort of the kind of program that lets their defense and their running game win the game and the quarterback is just there to sort of manage it. And, until they get more dynamic, they're just not going to have the kind of numbers to go up against people who run the spread. JW: That being said, Mark Ingram did win the Heisman with that low rushing total. Do you think that AJ McCarron could end up in New York, kind of like Ken Dorsey did, if Alabama goes undefeated and no one else does and maybe Braxton Miller has 35 touchdowns, but AJ McCarron is on the verge of three straight national titles? Do you think he'd have any shot then?
CH: I think McCarron can definitely get to New York and I think he's one of the favorites to do so. I do think he's almost at the same sort of situation as Manziel was. Or, Manziel will be in the sense that McCarron led the nation in passing efficiency last season and threw just three interceptions and 30 touchdowns. It's going to be kind of hard to duplicate those numbers. It's hard to throw less than three interceptions in a year.
So if he has any sort of let down from that, then it's going to be perceived as him not doing as well. But on the other hand, like you said, if he has the Tide in position for a third straight title, I think that's going to help him a lot. That's where the strength of his candidacy lies – with how his team performs and his reputation as kind of a field general.
I don't think he has a very good chance actually to win the Heisman. I do think a lot would have to happen – all the various great offenses out there would have to sort of have a tough year. You'd have to look at all the Braxton Millers and the Johnny Manziels and the Tajh Boyds and the Teddy Bridgewaters and Marcus Mariotas. All of these other great offensive quarterbacks who are putting up huge numbers would probably have to have off years and McCarron would have to have yet another great year – sort of the default champion.
JW: I gotta ask you one more question about Teddy Bridgewater. You said that Ohio State's strength of schedule won't hurt them because they are still Ohio State. Is the reverse true for Teddy Bridgewater since Louisville is still not that widely respected?
CH: Exactly. Very hard to win it when you play for Louisville unless you have a chance to beat some good teams or unless you put up some huge numbers. Sort of how RG3 did it for Baylor. He was able to beat Oklahoma and Texas and also put up some incredible statistics along the way. The problem with Bridgewater is that he is also in a system that is probably not conducive to him putting up outstanding numbers. And I don't mean not very good numbers, I mean like the kind of numbers we've see in recent Heisman history.
He plays in a sort of a more traditional pro-style drop back offense which doesn't really lend itself to what RG3 did or what Cam Newton did or what Johnny Manziel did. So, I mean, if you look at the last pro-style quarterback to win the Heisman, was probably Matt Leinart in 2004, and offenses have changed quite a bit. So, and like you said, with that schedule, without having those marquee games to prove himself against elite competition, there's always going to be a certain amount of skepticism over just how good he is.
You can read Huston's work at HeismanPundit.com and CBSSports.com and follow him on Twitter at @HeismanPundit.
Comments
comments