Ranking All NCAA Champions Since 1985
April 2nd, 2013| by Lost Lettermen
The title run enjoyed by every single NCAA men's basketball champion is special. But not every last team standing at the conclusion of March Madness is created equal.
In advance of the Final Four in Atlanta this upcoming weekend, we rank each of the 28 NCAA tournament champions since the field expanded to 64 teams in 1985 based on their bodies of work in the regular and postseason.
. 
28. 1985 Villanova (25-10)

The eighth-seeded Wildcats remain the lowest-seeded team in Big Dance history to win it all. At just 19–10 in the regular season, Villanova was lucky just to make the tournament. Once it got there, however, the team played Rollie Massimino's game plan to perfection.
Alas, the glacially slow pace at which the Wildcats played didn't exactly epitomize "dominance" (quite the contrary actually). If 'Nova had missed just one or two shots in its record-setting title game win over Georgetown, 66-64, they wouldn't be on this list.
. 
27. 1988 Kansas (27-11)
Like their Villanova counterparts three years before, Kansas set a dubious distinction when it won the national title: Most losses ever by an NCAA champion (11).
Danny Manning was indeed tremendous en route to earning Final Four MOP honors. But there's no telling if the sixth-seeded Jayhawks would have still won it all had they not played the Final Four in Kansas City and/or the first and second rounds in nearby Lincoln, NE. There's a reason this squad is called "Danny and The Miracles."
. 
26. 1997 Arizona (25-9)
Lute Olson's Wildcats were just the fifth-best team in the Pac-10, at 11–7 (19–9 overall), during the regular season. And it's not as if they morphed into a dominant outfit come tournament time.
Arizona's largest margin of victory in its six tournament games was just eight points (which it accomplished twice). It received scares from a trio of double-digit seeds: No. 13 South Alabama (65–57 in the first round), No. 12 Charleston (73–69, second round) and No. 10 Providence (96–92, Elite Eight). Of course, 'Zona's other three wins came against three No. 1 seeds — the only champion thus far to beat three No. 1's en route to the title.
.. 
25. 2011 Connecticut (32-9)

Had Kemba Walker not decided to play hero ball, the 2010–2011 UConn team may have very well ended up in the NIT. Entering the Big East tournament as the ninth seed, the Huskies were 21–9 but just 9–9 in conference play and went an unsightly 4–7 down the stretch.
By now, most college hoops fans are very familiar with how Walker led his team to five wins in five days — the last four of which each came against Top 25 foes — en route to the Big East tourney title. He continued to shine during each of UConn's six Big Dance wins, three of which were by single digits.
. 
24. 1989 Michigan (30-7)
The Wolverines (30-7) could really score (87.8 PPG) and score efficiently (56.6% FG shooting as a team) and had a bona fide star in Glen Rice. Yet they still lost six Big Ten games, including two to an Illinois team that many had winning it all.
And during UM's championship run — made all the more unlikely by coach Bill Frieder being replaced by Steve Fisher on the eve of the tournament — the Wolverines needed each of Rice's record 184 points. With the exception of a 102–65 rout of Virginia in the Elite Eight, Michigan's average margin of victory was less than five points, including an 80–79 OT triumph over Seton Hall in the title game on controversial free throws by Rumeal Robinson.
.
23. 1986 Louisville (32-7)
Denny Crum's Cardinals were talented, featuring Billy Thompson, Milt Wagner and "Never Nervous" Pervis Ellison in their lineup. But they were beatable, as their seven regular season losses attested to.
The No. 2 seed's run to the title was well deserved, but they were also the beneficiaries of circumstances. Four of the Cards' six tournament opponents were seeded seventh or lower — including their Final Four opponent, upstart No. 11 seed LSU.
. 
22. 2010 Duke (35-5)
Among Mike Krzyzewski's four NCAA championship teams, his most recent was by far the least talented.
While the Blue Devils' 35–5 record was impressive, they didn't impose their will like so many of their predecessors had. They ground out a lot of wins — atypical for a program that won and lost based on the effectiveness of their offensive firepower. Favorable calls helped Duke get by Baylor in the Elite Eight and the Blue Devils' title game win over Butler literally came down to the buzzer, when Gordon Hayward's desperation heave was this close to banking in.
.
21. 2006 Florida (33-6)

The first of Billy Donovan's back-to-back title winning teams inexplicably lost six of its last 13 regular season games after a blistering 17–0 start. It's commonplace for teams who do that to crash and burn in the first weekend of the Big Dance. Fortunately for Florida fans, that fate did not befall the Gators.
Eventual Final Four MOP Joakim Noah and company looked overpowering at times in the Big Dance. A lot of that, however, was due to the good fortune of facing upstart opponents in an upset-riddled Big Dance: Four of the Gators' six opponents were seeded seventh or lower, including three match-ups with double-digit seeds (the last of which was in the Final Four against George Mason).
..

20. 1991 Duke (32-7)
The Blue Devils returned many of the players that had keyed their run to the national title game a year before. They played like a team with their talent level should en route to a 26–7 regular season, featuring the likes of Christian Laettner, Grant Hill and Bobby Hurley. Alas, it hit a sour note with a 96–74 rout at the hands of archrival North Carolina in the ACC tournament title game.
Duke quickly put that loss behind them in winning its first four tournament games by an average of 18.8 points. Then they upset previously unbeaten UNLV — who had humbled the Blue Devils by 30 points in the previous year's title game — in the Final Four, followed by a 72–65 defeat of Kansas for the program's first NCAA title.
.
19. 1998 Kentucky (35-4)
Kentucky's '98 team was definitely talented — featuring Nazr Mohammed, Scott Padgett, Heshimu Evans and Jamaal Magloire — and went 29–4 during the regular season. But for long stretches of their last three games in the NCAA tournament, they didn't play like the most talented team on the court.
The "Comeback Cats" fell behind by double digits to each of their opponents in the Elite Eight (Duke), Final Four (Stanford) and title game (Utah), only to mount rallies and win each game by single digits. The Duke game was particularly memorable, as UK trailed by as many as 17 points before coming back.
. 
18. 1987 Indiana (30-4)
Don't let the 30–4 record fool you: It was a battle all year long for Bobby Knight's last national championship team. The Hoosiers squeezed out several close wins over its Big Ten rivals during the regular season; in the tourney, IU's last four wins came by a combined 12 points.
Knight later attributed Indiana's '87 title to "almost a total resolve not to recognize or be part of a defeat. This team played the last five minutes of critical games as well as I've ever seen a team play." Exhibit A: Keith Smart's game-winning jumper that proved the difference in a 74–73 title game win over Syracuse.
. 
17. 2003 Syracuse (30-5)
Though the Orange went an impressive 30–5, it took some time for them to hit their stride. The early season departures of DeShaun Williams and James Thues from the team, combined with Billy Edelin's 12-game suspension for participating in a non-sanctioned basketball league, were root causes of that.
While Carmelo Anthony, Gerry McNamara and Hakim Warrick — among others — had standout moments in the tourney, 'Cuse didn't blow teams away. And the Orange almost didn't make it past the Sweet Sixteen after a scare from 10th-seeded Auburn (79–78).
. . . 
16. 2004 Connecticut (33-6)
The amount of talent on UConn's roster was staggering. Six players would eventually be selected in the first round of the NBA draft, three of whom — Emeka Okafor, Ben Gordon and Charlie Villanueva — were chosen in the Top 10.
Coach Jim Calhoun endured some headaches while trying to get his preseason No. 1 ranked squad to play like the best team in the country. (Who can forget his profanity-laced press conference following a January loss to unranked Providence?) Eventually the Huskies took off in winning the Big East tournament and overpowering their Big Dance competition – save for a close call in the Final Four against Duke – en route to the national title.
.
15. 2008 Kansas (37-3)
Twenty years after "Danny and The Miracles" made their unlikely run to the title, the 2007–2008 Kansas squad looked much more the part of NCAA champion: A 31–3 record heading into the Big Dance, Big 12 regular season and tournament champions and arguably the most talented roster in the country.
That said, the Jayhawks' march to the title wasn't without its share of unwanted drama. Tenth-seeded Davidson put up a worthy fight in a 59–57 Elite Eight tussle. In the national championship game, KU needed Memphis to implode at the free throw line and Mario Chalmers to sink a 3-pointer near the end of regulation before triumphing, 75–68, in OT.
14. 2000 Michigan State (32-7)
The 32-7 record is misleading, as many of those losses were sustained against one of the toughest non-conference schedules in recent memory and as star point guard Mateen Cleaves was still dealing with a stress fracture in his right foot from the offseason.
Once Cleaves rounded into shape, his teammates picked up their games as well — and very few opponents could contend with the Spartans. MSU finished the regular season ranked No. 2 in the AP before winning each of its six NCAA tournament games by double digits en route to the title.
.
13. 1993 North Carolina (34-4)
With Eric Montross, George Lynch, Donald Williams and Derrick Phelps leading the way, the Tar Heels blitzed through the ACC with a 14–2 record (28–4 overall). Come tournament time, UNC faced some tough opponents but never flinched in hard-earned wins over Arkansas (Sweet Sixteen), Cincinnati (Elite Eight), Kansas (Final Four) and Michigan (championship game).
While the title game victory over the Wolverines is most remembered for Chris Webber's infamous timeout he didn't have, it was a game that North Carolina led almost throughout.
. 
12. 2002 Maryland (32-4)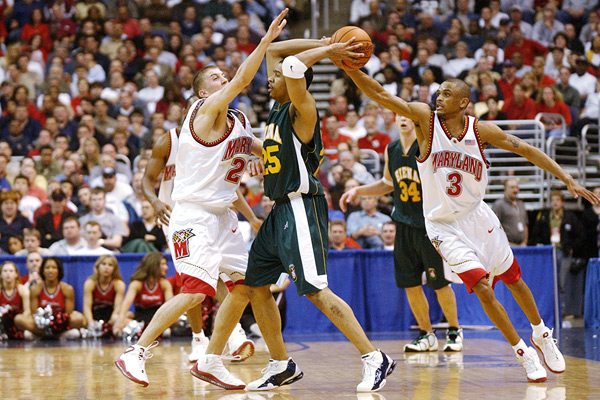 Hardened by three heartbreaking losses against Duke the year before — the last of which came in the Final Four — the Terps approached the following season as a team on a mission. And boy, did they play with a purpose.
Led by Juan Dixon and Lonny Baxter, Maryland averaged a blistering 85.0 PPG (fifth in the country) and save for four losses — three of which came against teams that would reach the Sweet Sixteen or further — were always the better team on the court. At no point during their march through the tourney and toward the first national title in school history were they truly threatened.
.

11. 2007 Florida (35-5)
All five Gators starters from the previous season's title-winning team came back to make it two in a row. At one point Florida was 24–2, undefeated in SEC play and looked like an unstoppable juggernaut.
Then, like the previous season, the Gators encountered some late-season speed bumps (three losses in their last five games). And like the previous season, they got their act together and then some in sweeping the SEC and NCAA tournament titles. That they did so with the entire country looking to deny them a second straight championship was all the more impressive.
. 
10. 2001 Duke (35-4)
These days, 90 points often represents a college basketball team's season high. The 2000–2001 Blue Devils averaged just over that (90.7 PPG).
It helped that the Blue Devils had an absolutely loaded roster with Jason Williams, Shane Battier, Carlos Boozer, Mike Dunleavy Jr., Nate James and Chris Duhon. Has making up a 10-point deficit in under a minute ever looked as easy? It was too much firepower for most opponents to handle during the regular season, and that continued to be the case during a Duke march to the title in which it won each of its six tourney games by double digits.
.

9. 2005 North Carolina (33-4)
One of the most talented rosters in recent memory — four players (Marvin Williams, Raymond Felton, Sean May and Rashad McCants) would be selected among the top 14 picks of that June's NBA draft — was also the highest-scoring team in the country (88.0 PPG). One which, on average, beat its opponents by 18 points.
Despite a season-opening hiccup against Santa Clara and three losses to ACC opponents, UNC had its eyes firmly fixed on the title all season long. And they weren't denied in a march through March that had an air of inevitability to it.
.
8. 1994 Arkansas (31-3)
Nolan Richardson's "40 Minutes of Hell" was at its most Satanic during the Razorbacks' 1993–1994 championship season. Arkansas was third in the country in scoring (92.3 PPG) and turned their opponents over an average of 21.3 times per game.
It wasn't just the non-blue bloods who wilted from the Hogs' pressure, either. Their last three victories en route to the title came against Michigan, Arizona and Duke with then-President Bill Clinton cheering the Hogs on.
.

7. 2009 North Carolina (34-4)
The Tar Heels began the season ranked No. 1 and never dipped below No. 6. This was due in large part to a stocked roster that featured Tyler Hansbrough, Wayne Ellington, Danny Green and Ty Lawson (the last three of whom withdrew from the 2008 NBA Draft). It wasn't just a talented bunch but a motivated one as well, having been embarrassed by Kansas in the previous year's Final Four.
Come tourney time, whether it was Hansbrough banging inside, Ellington shooting from the outside or Green and Lawson driving by opponents, nobody could keep up. The Heels' smallest margin of victory was 12 points; their average one was 20.2. Their M.O. throughout was to get ahead early and never let up off the gas, as they did in a 17-point win over Michigan State in the title game.
.
6. 1995 UCLA (31-2)
Twenty years after John Wooden won the last of his record 10 national titles, it was as if the Wizard of Westwood was back on the bench in the form of Jim Harrick.
The program's long-awaited 11th NCAA championship was spearheaded by a talented roster consisting of Tyus Edney, the O'Bannon brothers (Ed and Charles), George Zidek, Cameron Dollar, Toby Bailey and J.R. Henderson. Aside from Edney having to rescue the Bruins in the second round against Mizzou with a last-second layup, they played lights out during the regular season and Big Dance.
.
5. 1990 UNLV (35-5)
"Runnin' Rebels" was a very appropriate moniker for Jerry Tarkanian's UNLV teams. His 1989–1990 squad — which averaged 93.5 PPG and forced an average of 19 opponents' turnovers per game en route to a 35–5 record — was no different.
Led by a trio of future first round NBA draft picks in Larry Johnson, Stacey Augmon and Greg Anthony, it's hard to believe UNLV lost any games, but the Rebels played a really tough nonconference schedule that included Kansas, Oklahoma and LSU. UNLV is No. 5 on this list largely based on how it ended the season: With a dominant NCAA tournament run – one that concluded with a 103–73 beat down of Duke, which remains the largest margin of victory in an NCAA title game.
.
4. 2012 Kentucky (38-2)
It doesn't get much more dominant than tying an NCAA Division I record for the most wins ever in a single season (38).
A roster consisting of just two seniors — neither of whom started — more than lived up to a No. 2 preseason ranking. (Kentucky was never ranked lower than 3rd at any point during the season.) Uni-browed freshman center Anthony Davis got most of the pub, but he also had help in overpowering opponents from Michael Kidd-Gilchrist, Terrence Jones, Marquis Teague, Doron Lamb and Darius Miller.
Players on other teams had to play the games of their lives just to keep up, which only two teams (Indiana and Vanderbilt) successfully managed to do and win.
.

3. 1999 Connecticut (34-2)
UConn was a consensus Top 5 team entering the season and never left their place near the top of the standings until they cut the nets down in Tampa. This 34–2 juggernaut had all the ingredients for a champion: A sharpshooting star (Richard Hamilton), a savvy point guard (Khalid El-Amin), defensive stoppers (Ricky Moore and Kevin Freeman), a solid post presence (Jake Voskuhl) and a veteran coach who could bring it all together (Jim Calhoun).
While the Huskies endured close calls in the Elite Eight (Gonzaga), Final Four (Ohio State) and national title game (Duke), at no point did their players or coaches believe they wouldn't end up on the winning end. The victory over a Duke team full of future NBA draft picks like Elton Brand only confirmed how great this Huskies' team was.
.
2. 1992 Duke (34-2)
Only one sentence would be needed to describe Duke's dominance this season: They are the last college basketball team to spend the entire season ranked No. 1.
A roster consisting of Christian Laettner, Bobby Hurley, Grant Hill, Thomas Hill (no relation), Antonio Lang, Brian Davis and Cherokee Parks went 34–2, with the pair of defeats (to UNC and Wake Forest) coming by a combined six points.
Despite worthy challenges from Kentucky and Indiana in the Elite Eight and Final Four, respectively (especially Kentucky in the legendary "Laettner game"), the Blue Devils weren't to be denied in their quest to become the first team to defend a national title since UCLA's seven-year dynasty from 1967–1973.
. 
1. 1996 Kentucky (34-2)
"The Untouchables" featured nine future NBA players and six first-round draft picks, including Antoine Walker and Ron Mercer. Rick Pitino's squad went 34-2 on the season and steamrolled their way through the NCAA tournament.
You want dominant? Kentucky won each of its tourney games prior to the Final Four by over 20 points. Many people will argue that this is the greatest college basketball team of all time because of the lack of parity during the 1960s and '70s when UCLA and Indiana had perfect seasons. It's hard to disagree.
Comments
comments