Revisiting UCLA's Hiring of Jim L. Mora
October 22nd, 2013| by Lost Lettermen
UCLA head coach Jim L. Mora has done a masterful job as the Bruins' head coach in his first two seasons on the job. Taking over for Rick Neuheisel – who guided the Bruins to a losing record in three of of four years – Mora has gone 14-6 in Westwood, beaten arch-rival USC for the first time since 2006, won the Pac-12 South title and now has his program ranked No. 12 in the BCS standings.
He's also made plenty of sportswriters eat crow for ripping his hiring in December 2011 after getting canned twice as an NFL head coach. Here were some of the many unflattering opinions about Mora's hiring:
Los Angeles Times: "It remains almost incomprehensible how ill-prepared [athletic director] Dan Guerrero was after firing Rick Neuheisel. As it turns out, Guerrero had done nothing to assemble an inviting package capable of persuading candidates UCLA was now indeed serious about football. … It appears UCLA has once again hired a coach who will need every break to go his way to have a chance for success."
New York Times: "Guerrero and the Bruins are adrift. Lost without a paddle. In deep water, and the only possible conclusion is this: U.C.L.A. has no idea what it's doing. How else can you explain a search that started without a plan and has rapidly deteriorated into a free-for-all — worse yet, a search that seems to have no endgame? Hiring Jim Mora can't be the grand plan, can it?"
Sports Illustrated: "After striking out with Chris Petersen, Al Golden and Sumlin, AD Dan Guerrero turned to an unemployed NFL lifer. Mora has assembled a nice staff and will likely make initial waves in recruiting, but history does not bode well for NFL-bred coaches. UCLA hopes Mora will become its Pete Carroll, but odds are much higher he emulates Bill Callahan, Charlie Weis, Chan Gailey, Mike Sherman … Grade: D"
Bruins Nation: "[Guerrero] didn't have the courage to actually point to Mora's mediocre record to justify this BS hire. No one in LA's traditional media is mentioning how the guy has a pathetic record with just one winning season riding Michael Vick's talent. No one is mentioning how he was reviled by the fanbases of previous two teams he 'coached.' "
Bleacher Report: "Some people think that this was a terrible hire for the university, which has been desperately trying to close the gap between in-city rival USC. But was it the worst hire of the college football season? No, but it comes pretty close."
So exactly how did Mora lead a renaissance in Westwood after so many pundits decried his hiring as foolhardy? Here are three key factors:
The Leftover Talent
Neuheisel certainly didn't leave the cupboard bare for his successor. A redshirt freshman last year (just like Johnny Manziel), Brett Hundley wasted little time establishing himself as the Bruins' long-awaited QB savior, scoring on a 72-yard touchdown run on his first play ever.
One week later he was at it again, filleting Nebraska's defense for 305 yards passing and four TDs in a 36-30 upset of the No. 16 Cornhuskers. He finished the season having established single-season school records for completions (319), passing yards (3,745) and total offense (4,100 yards).
Meanwhile, last year's star running back Johnathan Franklin rushed for over 1,700 yards and current linebacker Anthony Barr is a projected Top 10 pick in the 2014 NFL Draft.
The least Mora could do is send Neuheisel a holiday card this winter thanking him for the talent left behind on campus.
The Assistant Coaches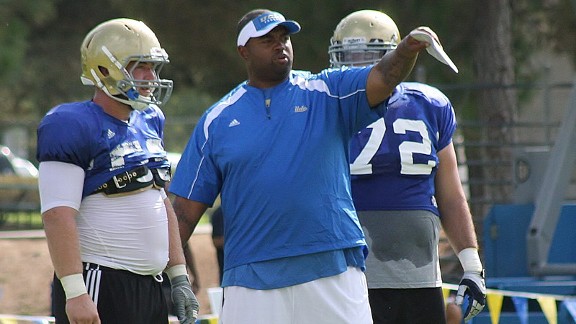 One thing Mora was savvy enough to realize upon getting the Bruins job in spite of not having coached at the college level since 1984 – when he was a graduate assistant at his alma mater, Washington – was the importance of a head coach's support staff, both from a recruiting standpoint and an "assignment of responsibilities" one.
Within a month of his hiring, Mora convinced the likes of Adrian Klemm (above, formerly of SMU), Steve Broussard (Arizona State), Demetrice Martin (Washington) and Eric Yarber (Tampa Bay Buccaneers) to join him in Westwood. They wasted little time in paying dividends, helping UCLA land 2012's consensus No. 12 recruiting class in the country after several seasons of being stuck in the middle of the pack. This year, they moved up to a tie for eighth.
Mora's biggest hire was that of offensive coordinator Noel Mazzone. In the last three years, UCLA's scoring offense has gone from 88th (23.1 PPG) in 2011 before Mazzone arrived to 31st in 2012 (34.4 PPG) to 21st this fall (39.8 PPG).
The State of Pac-12 South
Here's the luck component to Mora's year-plus tenure at UCLA so far: He was hired by a team that competes in the far more forgiving South Division of the Pac-12.
The Bruins' division rivals consist of an awful Colorado team; up-and-down squads in Utah, Arizona and Arizona State trying desperately to find some consistency; and crosstown rival USC, now faced with trying to recover from the disastrous end to the Lane Kiffin era.
Compare that to the Pac-12 North, which features last year's Rose Bowl (Stanford) and Fiesta Bowl (Oregon) champions, an always gritty Oregon State team, a Washington program that's making noise again and a Washington State squad that's already surpassed last year's win total. (Even 1-5 Cal is making its mark with the nation's fifth-best passing offense.)
Two years after folks were left shaking their heads at UCLA's decision to hire Mora, it's looking like exactly what the flagging Bruins needed to return to their heyday as a West Coast power. Everything points to this season (and last season to a certain extent) being the beginning of something special.
Funny enough, UCLA's crosstown rival can relate to the Bruins' current renaissance. If you'll recall, it was 13 years ago this December that the Trojans also filled their head coaching vacancy with a former NFL head coach. Like Mora, his record in the NFL was spotty at best. Like Mora, it had been years since he last coached at the collegiate level. And like Mora, his arrival was met with much derision.
Pete Carroll turned out to be exactly what USC needed to get back to the college football mountaintop. In due time, Mora could have the Bruins there, too.
Bottom Photo Credit: Bruce Thorson/USA Today Sports
Comments
comments