Texas A&M Football: Kevin Sumlin Surprises Aggies with Movie Trip (VIDEO)
August 15th, 2014| by Lost Lettermen
Want to make hulking, intimidating men act like the little boy that lies dormant deep inside them? Just give them a surprise trip to the movies.
Texas A&M head coach Kevin Sumlin had his Aggies get dressed for practice on Thursday only to reveal to them that practice was off and a trip to the cinema was taking its place.
We'd all welcome a jaunt to the movies after a grueling few weeks of fall camp, but this display of excitement was truly something else.
If anyone tries to tell you high ticket prices and the Internet have marked the end of the theater-going experience, now you can show them this.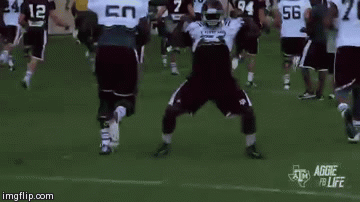 Comments
comments