Top 25 CFB Fails: #19 – White's 'Phantom TD'
July 30th, 2013| by Lost Lettermen
Every weekday until the opening week of the 2013 college football season, we are counting down the Top 25 College Football Fails Ever – including but not limited to players, coaches, fans, officials, mascots and uniforms. (Note: FBS programs only.)
Anyone and everyone watching the 1979 Rose Bowl between Michigan and USC knew that Trojans star tailback Charles White had fumbled well before crossing the goal-line in the second quarter, including White himself.
Yet inexplicably, the officials didn't see it that way, giving him the touchdown and USC a 14–3 lead en route to a 17–10 win.
There's another wrinkle to this call, widely considered among the worst in sports history, that infuriates Wolverines fans to this day. In a game made up of a Pac-10/Big Ten officiating crew, a Pac-10 official had initially (and correctly) signaled a fumble at the one-yard line and change of possession — only to be overruled by a Big Ten official who ran in signaling a touchdown.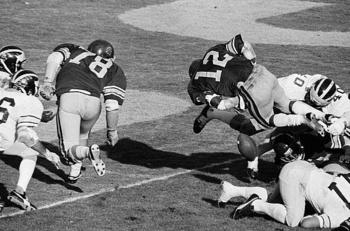 Top 25 College Football Fails Ever
#25: "F" for "FSU" Face Painting
#24: Duke Lays a Dookie
#23: Sooners Get Screwed
#22: CU's Powder Blues
#21: Fly, CavMan, Fly!
#20: "Oh Neaux" for LSU
Comments
comments