UM O-Line Better Off With Inanimate Objects
November 11th, 2013| by Lost Lettermen
By Jim Weber
I can safely say without a hint of hyperbole that Michigan's offensive line is one of the the worst in the program's 134-year history.
Here's the only stats I need to back that up: In the last two weeks, the Wolverines' offense has rushed for negative 69 yards while quarterback Devin Gardner has turned into a human piñata, having been sacked a combined 14 times.
The irony, of course, is that Michigan's identity as the winningest program in college football history is based on big, burly offensive linemen and power running games most associated with the "three yards and a cloud of dust" style under Bo Schembechler. The list of great Michigan linemen includes Dan Dierdorf, Reggie McKenzie, "Jumbo" Elliott, Greg Skrepenak, Jon Jansen, Steve Hutchinson and Jake Long – just to name a few.
There's plenty of blame to go around for the line's current ineptitude: The senior tackles haven't played up to expectations. Former head coach Rich Rodriguez did a terrible job of recruiting offensive linemen during his tenure. And the current coaching staff, with offensive line coach Darrell Funk in particular, has done a poor job of developing the group's young, highly-recruited players.
Head coach Brady Hoke and offensive coordinator Al Borges have subsequently turned the starting offensive line positions into a game of musical chairs, constantly shuffling the starting spots in search of a solution to no avail.
I've gotten to the point of openly wondering whether Michigan's offensive line would be better off with inanimate objects in place of the current starters. Take a second to consider my not-so-modest proposal:
Left Tackle
Out: Taylor Lewan
In: Cardboard Cutout
Coming into the season, Lewan was supposed to be the top offensive lineman prospect in the country. He's been a big disappointment whose signature moment of the season was trying to rip a Michigan State defender's head off. Lewan appears to have believed defenders would just bow down in the presence of a future Top 10 NFL Draft pick. With a life-size cardboard cutout of him (or Dan Marino if the athletic department is really on the cheap), Michigan can get the same intimidating presence without the cheap shots – or any other penalties, for that matter.
Left Guard
Out: Kyle Bosch
In: Folding Chair
The talented guard has appeared way over his head while starting as a true freshman. Enter a folding chair. It might actually take defensive tackles more time to run around the chair than straight through the gaping holes in the Michigan offensive line. Plus, Gardner's ailing body could really use the rest it provides in between plays.
Center
Out: Graham Glasgow
In: Pepper Spray
The punishment Gardner has received the last two weeks would be considered assault anywhere outside a football field. At least with the pepper spray can, he'd now be able to protect himself by spraying defenders with his left hand while throwing the ball downfield with his right. As an additional bonus, Gardner would no longer need to worry about the high snaps that have plagued Glasgow.
Ask this guy what getting hit with pepper spray at point-blank range is like:
Right Guard
Out: Erik Magnuson
In: Bag of Marbles
Like Bosch, Magnuson looks woefully unprepared to be starting for Michigan as a freshman. Why not let him sit back and be mentored by a bag of marbles? It would at least force defenders to run a loop around the newly formed O-line because you can bet no 300-pound defensive lineman will risk slipping around on the field like a cartoon character and falling on his ass with these on the ground.
Right Tackle
Out: Michael Schofield
In: Brady Hoke's Headset
OK, there's no secret benefit for a headset at right tackle. But if Brady Hoke is never going to use the damn thing, Michigan football might as well get some use out of it.
Jim Weber is the founder and president of LostLettermen.com. You can follow him on Twitter at @JimMWeber and @LostLettermen.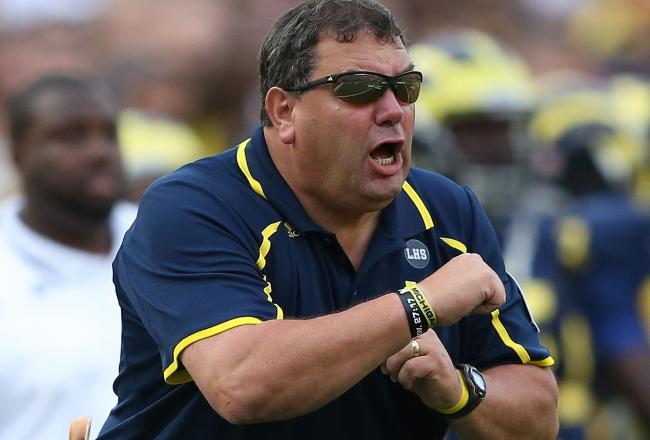 Comments
comments