Undrafted NFL Early Entries an Epidemic
April 29th, 2013| by Lost Lettermen
By Jim Weber
Last Thursday through Saturday was full of dreams coming true for hundreds of players who heard their name called during the NFL draft.
But there were also plenty of others who were stunned when they went completely unpicked, none more than college football players who declared early for the draft with aspirations of being picked in the first couple rounds.
In all, 21 of the 73 players that declared early for the 2013 draft went unselected. Marinate on that statistic for a second. That's a staggering 28.8% of players that were so confident that they would be picked (and picked high) that they gave up what many consider to be the greatest year of their life – only to find out they were not considered one of the top 254 players available. 2012 was even worse, as 20 of the 64 early entries (31.3%) went undrafted.
This year's early entry snubs included big names like ex-Tennessee quarterback Tyler Bray, ex-Notre Dame running back Cierre Wood, ex-Oklahoma safety Tony Jefferson, ex-LSU running back Michael Ford and and ex-Nevada running back Stefphon Jefferson.
All of them have already signed with NFL teams as rookie free agents, but the prospects of making the 53-man roster for which there are a total of 1,696 spots are bleak at best. Heck, many draft picks taken beyond the fourth round have a hard enough time making final cuts.
Now, the number of early entrants that go undrafted will never be zero. Some would rather take the chance of making a roster as an undrafted free agent for the shot at an NFL paycheck – especially if they have children or family members with financial problems. Others are in the draft early because they were kicked off teams. But we can all agree about 30% of early entries going undrafted is really sad.
Yes, there's always a chance these undrafted early entries could become the next Vontaze Burfict. The current Cincinnati Bengal is the poster boy for an undrafted early entry who overcame the snub to not only make a roster but also have a great rookie year as a starter. But for every player like Burfict, there are countless others who went undrafted and watched their pro football careers fizzle out. They include ex-Notre Dame RB Darius Walker, ex-Michigan S Ernest Shazor, ex-Ole Miss QB Jevan Snead and ex-Oregon QB Darron Thomas, just to name a few. Heck, Thomas didn't even make it to an NFL training camp last year after going unpicked.
The NFL draft advisory committee that gives underclassmen an idea of when they will be drafted before they make a decision to go pro was a great initiative by the league, but it's obviously not having enough of an impact.
So what can be done to curb this disturbing trend?
First, let me give you a little bit of background information with an assist from John Infante of the Bylaw Blog. Contrary to popular belief, a player who declares early for the NFL draft and goes unpicked can return to school within 72 hours of the draft's conclusion if he hasn't signed with an agent. In college hockey and baseball, players can even return to school after being drafted (which happens after high school or their junior year) because they don't declare early; all players except freshmen and sophomores are eligible to be drafted.
The loophole that college baseball and hockey players have used in order to maintain their eligibility and keep the option of returning to school open is using agents only as "advisors" who they pay at their going rates for their services as opposed to signing a contract. Case in point: Baseball super agent Scott Boras is an "advisor" to many high school and college baseball players with the idea he will become their agent once they turn pro.
Because football players who get selected in the NFL draft must leave school, a market has never really developed for college football "advisors." But with around 30% of early entries going undrafted the last two years, it's clear those with late-round grades would be wise to choose this route instead.
Look at Tyler Bray. Having signed with the Kansas City Chiefs as an undrafted free agent, Bray has to be regretting to his decision to leave school. If he had used an advisor instead of signed with an agent, he could have returned to Tennessee on Monday with the opportunity to propel himself into the first or second round of the 2014 draft. While that might seem like a long shot, Bray certainly has the physical attributes to be an NFL quarterback; he just lacks consistency.
The ideal ending in this hypothetical scenario for Bray would be a seven-figure rookie contract in 2014 and being cast as a franchise quarterback, both of which would have enhanced his chances of a long-term NFL career. Yes, there are a lot of variables in this scenario. But it is possible that if Bray had used an advisor and returned to school for his senior year, the decision could have resulted in tens of millions of dollars in lifetime earnings.
Now we will never know because Bray – as well as 20 other undrafted early entries – didn't use the cheapest insurance policy they will ever find.
Jim Weber is the founder of Lost Lettermen. You can follow him on Twitter at @JimMWeber and @LostLettermen.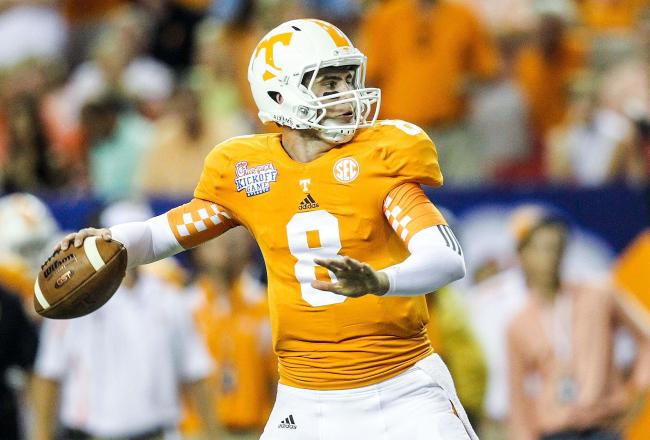 Comments
comments