Vandy DL Wears Scary Green Contacts
August 30th, 2013| by Lost Lettermen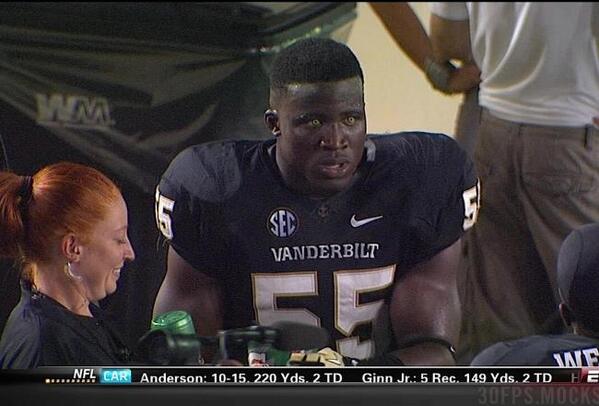 At 6-foot-4 and 255 pounds, Vanderbilt sophomore defensive lineman Caleb Azubike is already pretty intimidating. Evidently, that wasn't enough for him, so he took the field against Ole Miss on Thursday night sporting some positively scary green contact lenses.
Although Azubike's Commodores would fall, 39–35, the contacts certainly made him popular among the Twittersphere.
Caleb Azubike is about to go full Teen Wolf: pic.twitter.com/cwYM1odPU3

— Luke Zimmermann (@lukezim) August 30, 2013
#Vanderbilt's Caleb Azubike's either in midst of Hulking out or auditioning for American Werewolf in London remake. http://t.co/Kdq6X7i9QL

— Cory McCartney (@CoryMC_FOX) August 30, 2013
I am rocking these next year at the Masters!!! pic.twitter.com/g29btV3tP1

— Brandt Snedeker (@BrandtSnedeker) August 30, 2013
This sure beats the hell out of what the Little Giants used for intimidation.
Comments
comments