Webber: Follow Buckner, Come to Title Game
April 8th, 2013| by Lost Lettermen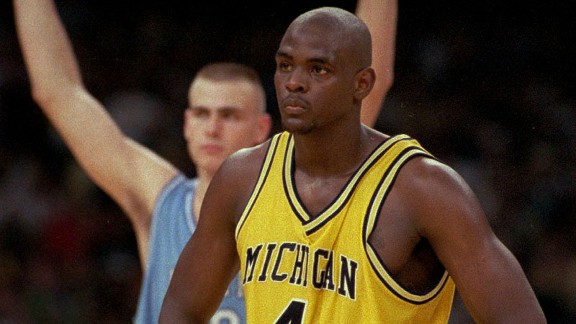 By Jim Weber
It's been 20 years since Chris Webber tried to call a timeout he didn't have during the closing seconds of the 1993 national title game. It's time he finally stops running from it.
As a Michigan alum, I can say that Webber is like the Keyser Söze of Wolverine sports: A larger than life figure whom no one has any recollection of seeing in the flesh in Ann Arbor.
According to Jalen Rose, Webber won't be at tonight's national title game between Michigan and Louisville – likely the only member of the Fab Five that won't be in attendance – despite the fact that he lives in Atlanta. And that's just a damn shame.
And it's all because Webber doesn't want to relive the worst moment of his life ever again.
It's understandable. "The timeout" has been discussed ad nauseam here in Atlanta, so much so that a sign signalling Michigan's number of timeouts during Saturday's Final Four went viral. If Webber was in attendance for the title game, it would be one of tonight's biggest storylines and force him to relive the moment again for three hours on national television.
You can see how much the timeout has affected his life over the past two decades. Webber never returns to his old school (granted, he's been banned from the university since 2003, which ends in exactly one month), rarely talks about his college days, never speaks about the timeout and spent 15 years in the NBA shying away from the closing moments of games. The pain from that moment is an incredible burden to live with.
But as long as Webber refuses to accept it and make peace with that chapter of his life, it will remain forever open.
Look at what happened when former Boston Red Sox first baseman Bill Buckner finally came to grips with his infamous error in the 1986 World Series. After sealing himself off from society in Idaho, Buckner went back to Fenway Park for Opening Day 2008. He shed some tears in response to a moving standing ovation and appears so much happier now than he had been over the previous two decades.
Said Buckner at the time: "I just didn't think I was going to do it. I told [Red Sox VP emeritus] Dick [Besciani] I'd think about it, but I made up my mind. I wasn't going to come. Then I prayed about it a little, and here I am. Glad I came."
Since then, Buckner has even poked fun at the error on "Curb Your Enthusiasm," returned to Massachusetts to coach for the Red Sox's summer league team, the Brockton Rox and made peace with a Beantown fanbase that resented the thought of him for years.
That's not the case with Webber. Michigan fans didn't hate him for the timeout; they just felt sorry for a 20-year old kid that made the biggest mistake of his life. And the fans still love the Fab Five just as much as they would if the team had captured the '93 title. Heck, the Fab Five is much more legendary in Ann Arbor than the 1989 team that actually won it all.
Michigan fans have made peace with Webber's timeout. They don't still talk about "what ifs," they are just hoping for a cathartic moment for both parties involved if and when the Fab Five is reunited at a Michigan basketball game and receives a standing ovation.
Webber will be glad as well if he comes to the Georgia Dome for tonight's title game between Michigan and Louisville. If he does, he'll be showered with love by Michigan fans – who want nothing more than to thank him for everything he did for the basketball program – and possibly watch his school win a national title alongside four old teammates with whom he forever changed college basketball.
Because as Buckner proved, there's only so long anyone can – and should – live with the burden of that much pain.
Jim Weber is the founder of Lost Lettermen. You can follow him on Twitter at @JimMWeber and @LostLettermen.
Comments
comments