West Virginia Football: Mountaineers Have Creepy Play Card (PHOTO)
August 30th, 2014| by Lost Lettermen
Red Bull gives Mountaineers wings. pic.twitter.com/uRFeNcTFEf

— SB Nation GIF (@SBNationGIF) August 30, 2014
Some teams have been known to flaunt unique play cards. Then there's West Virginia.
As Mountaineers took on Alabama in the Georgia Dome on Saturday, eyes gravitated momentarily to the sideline, where WVU head coach Dana Holgorsen was flanked by some pretty outlandish play cards.
The Red Bull can and Dale Earnhardt's No. 3 car aren't too funky, but it gets stranger with the lip-biting mouth and hits its apex with the the half-naked selfie dude with the porno 'stache – which is apparently Twitter user @BarstoolBigCat.
West Virginia trailed Alabama by just three at halftime, 20-17, so whatever works.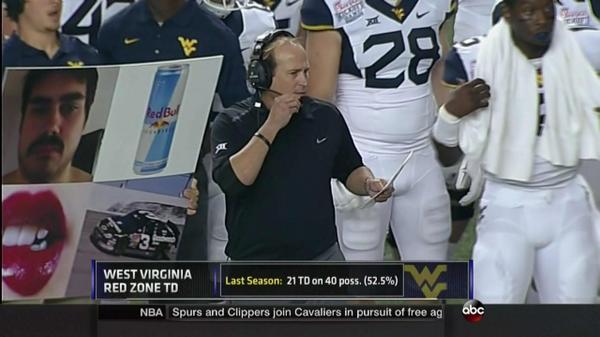 Comments
comments