Will Baylor Break PPG Scoring Record?
November 4th, 2013| by Lost Lettermen
One would think that with the explosion in college football offenses in recent years, the all-time points-per-game scoring record for a single season would be a relatively new mark. Yet that's far from the case.
This fall marks 69 years since the 1944 Army team – led by the famed "Mr. Inside" and "Mr. Outside" combination of Doc Blanchard and Glenn Davis, respectively – averaged an astounding 56.0 PPG en route to the first of three straight national championships. To put the record's length in perspective, Joe DiMaggio's still-standing 56-game hit streak in Major League Baseball is just three years older. Since 2000, three teams have averaged over 50 PPG for a season: Texas in 2005 (50.2), Oklahoma in 2008 (51.1) and Louisiana Tech last year (51.5). Yet none of them truly threatened that '44 Army team's record.
It makes what Baylor is doing right now truly remarkable.
Through seven games, head coach Art Briles' pride and joy is averaging 63.9 points per game. They've already broken the 70-point barrier four times this season. The Bears' low point total for the year was 35; in every other game, they've scored at least 59.
It's not just the all-time, single-season PPG mark that Baylor is chasing. Per NBC Sports' Chris Huston, the Bears are also on pace to break the single-season marks for the following:
Yards gained per game
Total yards gained
Highest average gain per play
Most touchdowns running and passing
Most touchdowns running and passing per game
Total points scored
Most touchdowns per game
Total touchdowns scored
We have, literally, never seen an offense as prolific as Baylor's so far in 2013. But will we see a record that has stood for nearly 70 years finally come crashing down? We examine the determining factors:
Tougher Schedule
Con: For starters, Baylor's schedule is ridiculously back-loaded. After not playing a single ranked opponent in its first seven games, the Bears face three in a row – No. 10 Oklahoma, No. 15 Texas Tech and No. 18 Oklahoma State – before closing with TCU and Texas. All five opponents boast scoring defenses in the FBS Top 50, each allowing under 25 PPG.
Pro: Whereas Petty and company have often sat out large chunks of the second half in their first seven games (the product of building up huge leads early), they'll likely all be in there for the full 60 minutes against this improved caliber of opponents. And Baylor's already made mincemeat of several Big 12 defenses, putting up 73 points on West Virginia and 71 on Iowa State. So while Baylor's remaining games should be more competitive, they could easily all be shoot-outs.
Consistency
Con: It could only take one clunker from Baylor's offense for dreams of setting the scoring record to go up in smoke. Baylor needs to average 47.0 PPG in the final six games (five regular season contests plus a bowl game) to break the record. If Baylor was somehow held to 14 points in a game, the scoring average required for the other five games would spike to 53.6 PPG.
Pro: The Bears have been unbelievably consistent on offense the last several years. Since 2011 (Robert Griffin III's Heisman Trophy-winning season), Baylor has been held to 28 points or less on offense on just three occasions. Don't expect a fourth time to happen during the rest of the 2013 season.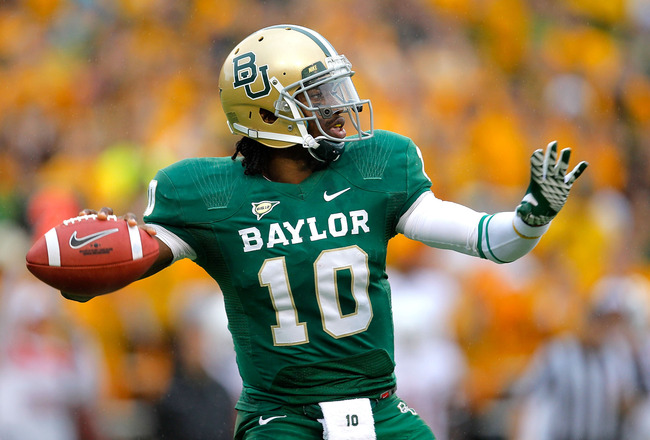 Injuries
Con: Baylor has lucked out thus far in that none of its key offensive players have been shelved with injuries. But it feels like it's only a matter of time until the Bears get bitten with the injury bug at either quarterback (Bryce Petty), running back, (Lache Seastrunk, Shock Linwood and Glasco Martin), wide receiver (Antwan Goodley and Tevin Reese) or the offensive line.
Pro: Baylor has an embarrassment of riches at running back and wide receiver, meaning that if a starter were to go down, a backup could easily step in and fill his place. The only place Baylor really can't afford an injury to keep up this scoring pace are at quarterback – where Petty is a Heisman Trophy candidate – or multiple offensive line positions.
Bowl Game
Con: Baylor has no control over whose defense it faces in a bowl game. If the Bears faces a top unit in a BCS bowl or sneaks into the BCS National Championship Game against Alabama, setting the record will be in serious jeopardy. It's hard to imagine the Bears shredding Alabama's defense in Pasadena if you give Nick Saban a month to defend against it.
Pro: If Baylor plays Fresno State in the Fiesta Bowl – as currently projected by some – the Bears could put up 80 points (the Bulldogs are currently 78th in the FBS in scoring defense). Plus, Alabama had all offseason to prepare for Texas A&M and Johnny Manziel, who nonetheless put up 42 points and over 600 yards of offense in College Station.

Baylor is on track for a historical season not only for the program, but also the FBS record books. Whether the Bears break the 69-year old scoring record will be one of the best subplots of the rest of the 2013 college football season.
Because in just two months, we'll know if we are currently witnessing the greatest offense in college football history.
Top Photo Credit: Jerome Miron/USA Today Sports
Comments
comments